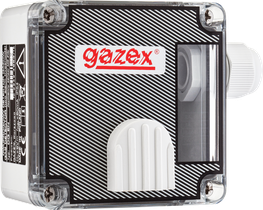 Concentration-measuring gas detectors DG-P.EN
Cost-effective, concentration measurement and detection devices for carbon dioxide (CO2) with splash-proof construction
The metering, cost-effective DG-P.EN detectors are designed for the selective measurement of carbon dioxide (CO2) concentrations up to 2% by volume in confined spaces.
Detectors are designed to cooperate with:
Detectors type DG-P.EN are devices of ordinary construction and cannot be used in places classified as explosion hazard zones for gases, vapours or dust.
Area of application
mushroom farms;
greenhouses.
Offered models
Model
Gas sensor module
Sensor
Substance/property
Standard alarm thresholds or measuring range
Supply voltage
Net price

C.g.

DG-P8R8.EN

MS-P8R8.EG
Infra-red
Carbon dioxide (CO2)

0 ÷ 2

%v/v

System powered

PLN599.00

N
Model
Gas sensor module
Sensor
Substance/property
Standard alarm thresholds or measuring range
Supply voltage
Contact control outputs
Voltage control outputs 12VDC
Two-state outputs (threshold)
Control output "Fault"
Output controlling the shut-off valve
Output in 4-20mA standard
Output in 0-10V standard
Output in 2-10V standard
Output in RS-485 standard
Visual signalling, built-in
Acoustic signaling, built-in
Internal battery
Dimensions
Net price

C.g.

DG-P8R8.EN

MS-P8R8.EG
Infra-red
Carbon dioxide (CO2)

0 ÷ 2

%v/v

System powered
—
—
—
82 x 110 x 68 mm

PLN599.00

N