GAZEX is active in the production, distribution, installation and calibration of detectors, meters and systems for detecting explosive, toxic, oxygen and freon gases.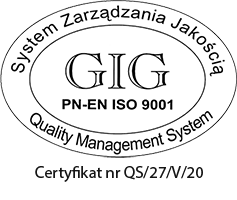 GAZEX has a quality management system certified and supervised by the Conformity Assessment Body of the Central Mining Institute, in accordance with the requirements of PN-EN ISO 9001 and PN-EN ISO/IEC 80079-34.
---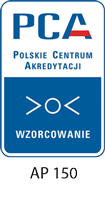 GAZEX Calibration Laboratory operating in accordance with the standard PN-EN ISO/IEC 17025 is accredited by the Polish Centre for Accreditation (AP 150).
GAZEX is a leader in the sector of stationary gas detection systems on the Polish market. More than 30 years of experience in the development and mass production of electronic devices for detecting and measuring concentrations of toxic gases, explosives, oxygen and freons guarantees the highest quality, functionality and reliability of the solutions and products offered. GAZEX provides comprehensive services — technical consultancy, delivery, installation and service of equipment.
GAZEX is constantly working to maintain the trust of its Clients, which it has gained over the years. It conducts trainings for designers, installers and system users, cooperates with research institutes and leading Polish technical universities, transferring and popularizing knowledge on the scope of gas detection.
History
Establishment of the company
1988
Development of a home gas detector DK-1
Obtaining the status of an Innovation and Implementation Unit
1989
Implementation of the WG-2 two-way microprocessor carbon monoxide detector into production
1991
Distribution of meters by the Japanese company NEW COSMOS
1992
Mass production of DEX® two-threshold explosion-proof detectors
Implementation of hybrid technology and SMD surface assembly
1993
Development of an Active Gas Installation Safety System (ASBIG®) type GX
Application of sensors in NDIR technology (infrared)
Development of portable miniTOX® toxic gas meters
Cooperation with PGNiG (Polish Oil and Gas Company)
1994
Close cooperation and technological support of FiS Inc. Japan, one of the largest and most resilient gas sensor manufacturers in the world
1996
The first 10,000 installed detection systems
1997
Extension of the offer with AirTECH two-gas meters for agriculture
Implementation of the Quality Management System compliant with ISO 9001
1998
Obtaining the TUV EN ISO 9001 certificate as the first company in Poland in the gas detection industry
Development of a new generation of MD microprocessor devices
1999
Distribution of SenseAir® NDIR meters
2000
Development and certification of the first detector in Poland meeting the requirements of the European Union – DEX®/F with a replaceable sensor
2001
Development of a new family of portable multigas meters for toxic, explosive and oxygen compounds – miniTOX–3
Equipping the Active Gas Safety System (ASBIG®) with new shut-off valves – full throttle valves
2002
Implementation of new technologies – remote supervision of gas detection systems based on GPRS
2003
Implementation in the production of DEX®/FA detectors... with replaceable sensor according to ATEX directive
2004
Implementation of production technology based on barcodes
2005
Deployment of smart sensor technologies
2006
Implementation into production of stationary two-gas detectors
2007
Development of elements for addressable systems
2008
Implementation of the PN-EN ISO/IEC 17025 standard in the GAZEX Calibration Laboratory
2012
The first 500,000 devices on the market
PCA accreditation No. AP150 granted for calibration of gas detectors
2013
Development of two-sensor detectors
2015
Obtaining the management system certificate in accordance with the requirements of PN-EN ISO 9001:2015 standard
2018
Awards
Winner of the SAWO International Trade Fair of Labour Protection and Rescue Equipment
1993
Winner of the International Fair of Health and Safety at Work and Fire Protection, Katowice, Poland
Winner of the SAWO International Trade Fair of Labour Protection and Rescue Equipment
1994
Winner of the International Fair of Health and Safety at Work and Fire Protection, Katowice, Poland
Laureate of the 1st Specialist Gas Fair GRYF-GAZ
1995
Winner of the POL-GAZ-EXPO International Trade Fair of Gas Appliances and Devices
1996
Laureate of the XI Autumn Building Exchange, Katowice, Poland
1997
Winner of the II TERMO Fair, Krakow, Poland
1999
Winner of the 7th International Trade Fair of Installation Techniques TERM, Warsaw, Poland
2000
Laureate of the 2nd Gas Industry Fair GAZ-TECHNIKA, Kraków, Poland
Winner of the 5th TERMO Fair, Krakow, Poland
Winner of the XIII International Trade Fair of Job Protection, Firefighting and Rescue Measures SAWO
2001
Laureate of the 3rd Gas Industry Fair GAZ-TECHNIKA, Kraków, Poland
Winner of the IV International Trade Fair of Installations and Equipment INSTALACJE, Poznań, Poland
Winner of XI International Fair of Sanitary, Heating, Gas and Air Conditioning Technology INSTAL EXPO, Warsaw, Poland
Winner of the 14th International Fair of Job Protection, Firefighting and Rescue, SAWO
2002
Laureate of the 4th Gas Industry Fair GAZ-TECHNIKA, Kraków, Poland
Winner of the 7th International Trade Fair of Gas Supplies and Equipment POL-GAZ-EXPO
Winner of the 15th International Trade Fair of Job Protection, Firefighting and Rescue Measures SAWO
2003
Laureate of the 5th Gas Industry Fair GAZ-TECHNIKA, Kraków, Poland
Winner of the 8th International Trade Fair of Gas Supplies and Equipment POL-GAZ-EXPO
2004
Winner of the 3rd Gas Engineering Fair EXPO-GAS
2006
Winner of the International Trade Fair of Installations and Equipment INSTALACJE
Winner of the International Trade Fair of Job Protection, Firefighting and Rescue SAWO
2008
Laureate of the Dziennik Gazeta Prawna: Polska Jakość 2012 award
Winner of the 10th INSTALEXPO Congress: Gold Installer
2012
Winner of the Readers' Choice Award of the magazine SYSTEMY INSTALACYJNE
2013
Winner of the LEADER OF INSTALLATION 2016 award of the monthly Rynek Instalacyjny
Winner of the LAUR INNOVATION AWARD 2016 of the Polish Federation of Engineering Associations (NOT)
2016
Winner of the CREATOR OF CONSTRUCTIONS OF THE YEAR 2019 award of the Polish Chamber of Civil Engineers
Winner of the CONSUMER OF QUALITY LEADER 2019 award of the Strefa Gospodarki publishing house, an independent supplement distributed together with Dziennik Gazeta Prawna
2019
Winner of the CREATOR OF CONSTRUCTIONS OF THE YEAR 2020 award of the Polish Chamber of Civil Engineers
Winner of the CONSUMER OF QUALITY LEADER 2020 award of the Strefa Gospodarki publishing house, an independent supplement distributed together with Dziennik Gazeta Prawna
2020