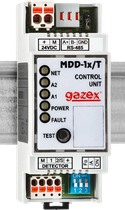 Addressable control units MDD-1x/T
Addressable executive units and power supply for one DEX/F, DG/F, DG.EN or DEX/A detector, TS35 rail mounting
The MDD-1x/T digital executive units are part of the Digital Gas Detection System (DGDS). They allow to control a single threshold detector produced by GAZEX and connect it to the DGDS.
MDD-1x/T are devices dedicated to work with MDD-256/T type supervisory control unit. Communication is carried out in industrial standard RS-485.
Features
power supply and control of one DEX/F, DG/F, DG.EN or DEX/A detector;
detector's power supply can be switched off (via the function switch);
communication, control and information transfer between system components in RS-485 standard (MODBUS RTU protocol);
removable, screwless terminals, possibility of using wires with single or multi-strand wires (without crimping sleeves) – quick installation, easy maintenance;
power supply 24VDC;
mounting on TS35 rail in standard electrical switchgears;
configuration of unit settings via dedicated configuration software "DETnet View", available at https://www.gazex.pl/en/software/.
Offered models
Model
Maximum number of detectors
Power supply backup
Supply voltage
Net price

C.g.

MDD-1x/T
1
24VDC

PLN99.00

C
Model
Maximum number of detectors
Alarm control outputs 12VDC
Contact control outputs
Emergency control output
Output controlling the shut-off valve
Alarm inputs
Analogue 4-20mA output
Analogue 2-10V output
Digital RS-485 output
Mounting on a TS35 rail
Power supply backup
Supply voltage
Dimensions
Net price

C.g.

MDD-1x/T
1
—
—
—
24VDC
35 x 90 x 65 mm

PLN99.00

C
Suggested products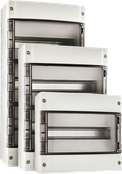 Modular switchgear RZ PLUS
Modular switchgear with TS35 rails, equipped and wired according to customer requirements (ready for installation)