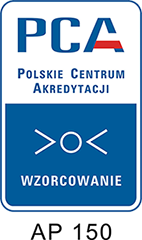 GAZEX Calibration Laboratory
All toxic and explosive gas detectors manufactured by GAZEX undergo the calibration process in GAZEX's own Calibration Laboratory.
GAZEX Calibration Laboratory, working on the basis of PN-EN ISO/IEC 17025 standard, is accredited by the Polish Accreditation Centre in the scope of calibration of detectors for two factors: methane and carbon monoxide.
The aim of the GAZEX Calibration Laboratory is to develop trust in the company by confirming the metrological properties of manufactured instruments and other instruments already in the customer's possession, thus ensuring comprehensive satisfaction of the customer's needs.
The GAZEX Calibration Laboratory has developed a unique method of creating gas and liquid vapor mixtures on the basis of which GAZEX detectors and meters are calibrated.
The calibration parameters of detectors or gas sensor modules are always consulted with the Client, and the confirmation of the calibration is the issuance of an individual Short Calibration Certificate.
Properly performed calibration process is an essential element of the quality of the detector, it can even decide about the possibility of using the detector in the security system of the facility.
Substances/properties that can be used to calibrate detectors
1-bromopropane
1-methoxy-2-propanol
2-butanol
2-methylpentane (isohexane)
acetic acid (ethanoic acid, methane carboxylic acid)
acetone
acetonitrile
acetylene
ammonia
argon
butane
butyl acetate
carbon dioxide
carbon monoxide
chlorine
cyclohexane
cyclohexanone
cyclopentane
decanter
diethyl ether
DME (dimethyl ether)
ethane
ethanol
ethyl acetate
ethyl chloride
ethylbenzene
ethylene glycol (glycol)
ethylene oxide
ethylene
formic acid (methanoic acid)
freons (hydrofluorocarbons)
helium
heptane
hexane
hydrogen chloride
hydrogen sulphide
hydrogen
isobutane
isobutanol
isooctane
isopropanol (propane-2-ol)
JET A1
JET A2
MEK (2-butanone)
methane
methanol
methoxypropanol
methyl acetate
methyl acrylate
methyl methacrylate
methylisobutylketone
nitric oxide
nitrogen dioxide
nonane
octane
oxygen
pentane
Propane-2-ol
propane-butane
propane
propanol
propylene glycol
propylene
styrene
sulphur dioxide
tetrahydrofuran (THF, oxolan)
THT
toluene
trichloroethylene
trimethylbenzene
trimethylpentane
xylene