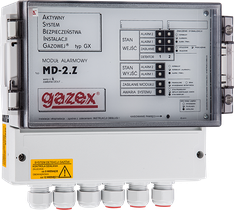 MD-2.ZA
Device group:
Threshold control units
Device type:
MD-1, MD-2, MD-4
Description of device type
MD-1, MD-2 and MD-4 dual-threshold alarm modules are designed to control and supply 1/2/4 of the DEX/F, DEX/A, DG/F or DG.EN type threshold gas detectors for use in the Dual Threshold Gas Detection System and Active Gas Safety System GX (ASBIG®).
The alarm module can control from one (MD-1) to two (MD-2) or up to four (MD-4) detectors. The module can control additional external optical and acoustic signaling devices and enables communication with other devices via relay outputs (or an RS-485 port for MD-1…).
Modules in MD…Z version can control a gas shut-off valve. Such module is a component of "the signalling and shut-off system" according to the requirements of the Regulation of the Minister of Infrastructure of the Republic of Poland dated April 12, 2002 on technical conditions to be met by buildings and their location (Journal of Laws 2002 No. 75 + changes).
Features
power supply for dual-threshold detectors (with load control and wired connection);
optical indication and memory of the detector's alarm states and control outputs;
Alarm input (for A2, galvanically separated) for fire systems or manual valve switch;
12VDC alarm outputs – supply of additional acoustic and optical signalling devices;
relay outputs (galvanically separated) - control of fans, contactors, information boards;
relay output "FAULT" (galvanically separated) - informs about emergency state of the module or power failure;
power supply of additional module for remote control of valves;
for MD…Z: high-current output 12VDC to control a MAG-3 type shut-off valve (with connection control);
automatic power supply backup (for MD-1.Z version);
in /M version: RS-485 port for connection to the Digital Gas Detection System or for configuration/reading of event memory data to PCs via dedicated configuration software "DETnet View", available at https://www.gazex.pl/en/software/.
Block diagram


---
Device model:
MD-2.ZA
Technical parameters
Maximum number of detectors

2

Alarm control outputs 12VDC

2

Contact control outputs

2

Emergency control output

Output controlling the shut-off valve

Alarm inputs

2

Supply voltage

12VDC

Dimensions

240 x 215 x 115 mm

EAN Code

5901769653443

Net price

PLN659.00

S
Documentation
Suggested products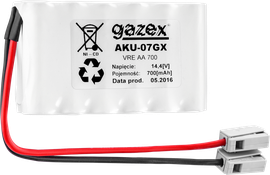 Service batteries AKU-07GX
Batteries designed to generate a control pulse for the shut-off valve in MD-...Z type control units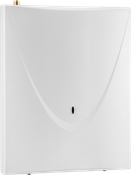 Modems GSM
Devices designed for remote monitoring of gas detection system status

Installation switches SW-20
Double switches for 230 AC power supply