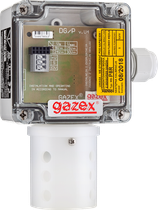 DG-P6R7/N-SF6
Device group:
Concentration-measuring gas detectors
Device type:
DG/P
Description of device type
Detectors DG/P are used for continuous monitoring of premises for combustible and toxic gases. The detector performs cyclic measurement of gas concentration in the air and transmits the measured value in 4-20mA standard (passive output).
DG/P detectors are designed to work with:
For use with control units from other manufacturers, GAZEX recommends to use detectors type DG/PV with dual outputs (active 4-20mA and 2-10V).
Features
4-20mA standard analog output (passive);
easily exchangeable sensor unit and easy maintenance;
easy change of the detected gas or calibration of the detector;
built-in temperature compensation;
infra-red sensor for combustible gases or electrochemical sensor for toxic gases or oxygen;
sensor unit with "zero" and "span" regulation (calibration outside the detector);
low-cost operation;
all detectors are calibrated in our own GAZEX Calibration Laboratory operating in accordance with PN-EN ISO/IEC 17025 (PCA accreditation No AP150).
Typical system configuration

---
Device model:
DG-P6R7/N-SF6
Technical parameters
Gas sensor module
Sensor
Substance/property
Standard alarm thresholds or measuring range
MS-P6R7/N-SF6
Infra-red
Sulfur hexafluoride (SF6)

0 ÷ 2000

ppm


Output in 4-20mA standard

Visual signalling, built-in

Supply voltage

System powered

Dimensions

110 x 140 x 55 mm

EAN Code

5901769654518

Net price

PLN3,199.00

N
Documentation
Series
Technical data
Device information sheet
Instruction manual
Declaration of conformity

W1

Download file
—
—
—
Archived series

U4

—
—
—
—
Suggested products