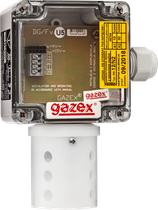 Device group:
Threshold gas detectors
Device type:
DG/F
Description of device type
Detectors DG/F are used for continuous monitoring of premises for combustible and toxic gases (and oxygen). The detectors come with two preset concentration thresholds for alarm purposes.
DG/F detectors are designed to work only with:
DG/F detectors cannot be used in hazardous locations (according to ATEX Directive).
Features
two thresholds set at manufacturing stage;
semiconductor sensor for combustible gases or electrochemical sensor for toxic gases or oxygen;
easily exchangeable sensor unit for straightforward maintenance;
easy change of detected gas and easy calibration (all available DG/F sensor units ready to operate in each DG/F detector);
intelligent sensors with build-in TWA and STEL measurement, alarm history, recommended calibration time mark signal;
built-in temperature compensation;
low cost operation;
long time operation (typically 10 years for semiconductor sensors);
all detectors are calibrated in our own GAZEX Calibration Laboratory operating in accordance with PN-EN ISO/IEC 17025 (PCA accreditation No AP150).
Typical system configuration

---
Device model:
DG-7KL3/N
Technical parameters
Gas sensor module
Sensor
Substance/property
Standard alarm thresholds or measuring range
MS-7KL3/N
Catalytic
Hydrogen (H2)

10/30

%LEL


Two-state outputs (threshold)

2

Visual signalling, built-in

Supply voltage

System powered

Dimensions

—

EAN Code

5901769652576

Net price

PLN1,049.00

N
Documentation
Suggested products