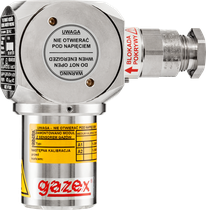 DEX-P7E/N
Device group:
Concentration-measuring gas detectors
Device type:
DEX/P
Description of device type
DEX/P detectors are designed to measure gas or vapour concentration of explosive or toxic liquids or oxygen. They are equipped with analog current output in 4-20mA standard.
DEX/P detectors are designed to work with:
measuring and threshold control units of type MDP-1.A/T, MDP-1 PLUS, MDP-4, MDP-8, MDP-16;
with any other control panels accepting the 4-20mA input line standard (with current emission) after using a power limiter type MDPL1.
The detectors meet the essential requirements of Directive 2014/34/EU (ATEX) of the European Parliament and of the Council of 26 February 2014, on the harmonization of the laws of the Member States relating to protective systems intended for use in potentially explosive atmospheres, implemented by the Regulation of the Minister of Development on requirements for equipment and protective systems intended for use in potentially explosive atmospheres of 6 June 2016. (Journal of Laws 2016 item 817).
The detectors are devices with explosion-proof construction of flameproof cover type and can be used in zones 1 or 2 threatened with explosion of flammable gases or vapors classified as explosiveness group IIA, IIB or IIC, temperature classes T1, T2, T3, T4, T5 or T6.
Features
4-20mA standard analog output (passive);
easily interchangeable sensor unit and easy maintenance;
easy change of detected gas or calibration of the detector;
built-in temperature compensation;
catalytic or infra-red sensor for combustible gases or electrochemical sensor for toxic gases or oxygen;
sensor unit with "zero" and "span" regulation (calibration outside the detector);
low-cost operation;
easy fit to existing systems with 4-20mA standard inputs (using MDPL1 limiter);
high temperature (up to +80°C) version available;
all detectors are calibrated in our own GAZEX Calibration Laboratory operating in accordance with PN-EN ISO/IEC 17025 (PCA accreditation No AP150).
Typical system configuration

---
Device model:
DEX-P7E/N
Technical parameters
Gas sensor module
Sensor
Substance/property
Standard alarm thresholds or measuring range
MS-P7E/N
Electrochemical
Hydrogen (H2)

0 ÷ 1000

ppm


Output in 4-20mA standard

Ability to work in the EX zone

Supply voltage

System powered

Dimensions

105 x 103 x 54 mm

EAN Code

5901769656659

Net price

PLN1,299.00

N
Documentation
Suggested products