DEX-P1R2/N
Device group:
Concentration-measuring gas detectors
Device type:
DEX/P
Device model:
DEX-P1R2/N
Description of device type
Detector DEX®/P is used for continuous monitoring of dangerous concentrations of combustible and toxic gases (and oxygen) in places of work and living.
Detector DEX®/P can be used in all places specified as II 2 G (according to Directive 94/9/EC - ATEX). All detectors are made according to European Standards EN 60079-0:2012 + A11:2013, EN 60079-1:2007, EN 60079-1:2014.
All DEX/P are equipped with individual production certificate and calibration certificate.
Features
4-20mA standard analog output (passive);
easily interchangeable sensor unit and easy maintenance;
easy change of detected gas or calibration of the detector;
built-in temperature compensation;
catalytic or infra-red sensor for combustible gases or electrochemical sensor for toxic gases or oxygen;
sensor unit with "zero" and "span" regulation (calibration outside the detector);
low-cost operation;
easy fit to existing systems with 4-20mA standard inputs (using MDPL1 limiter);
high temperature (up to +80°C) version available;
all detectors are calibrated in our own GAZEX Calibration Laboratory operating in accordance with PN-EN ISO/IEC 17025 (PCA accreditation No AP150).
Typical system configuration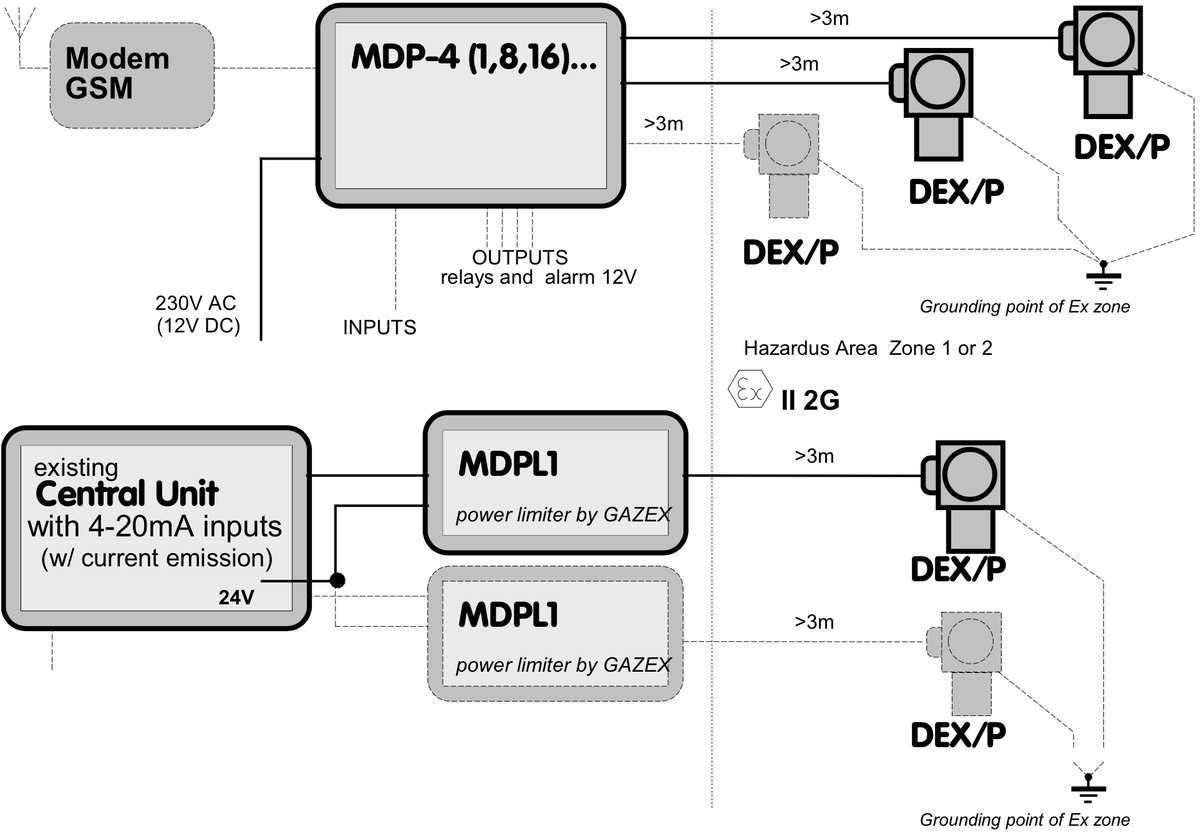 Technical parameters
Gas sensor module
Sensor
Substance/property
Standard alarm thresholds or measuring range
MS-P1R2/N
Infra-red
Methane (CH4)

0 ÷ 100

%LEL


Output in 4-20mA standard

Possibility of working in potentially explosive atmospheres

Supply voltage

System powered

Dimensions

105 x 103 x 54 mm

Net price

1,849.00 zł

S
Documentation
Splash-proof enclosures to protect detectors from adverse weather conditions and mechanical damage
Profiled tube guards to protect the detector from direct mechanical damage
Test kits for checking the correct functioning of detectors