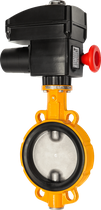 Butterfly valves ZM
Butterfly valves, shutting off gas supply to large installations/plants' sections/local networks
Butterfly valves ZM are shut-off valves, consisting of an interlocking throttle and an electric drive powered by 230VAC voltage. They can be part of the Automatic Shut-Off System eliminating the risk of explosion of natural gas, biogas, hydrogen or ammonia in industrial facilities.
The electric control enables quick and effective closing of the gas supply to the installations/networks with large cross-sections.
Area of application
high-power gas-fired boiler plants,
industrial gas installations.
Features
any gas flow direction;
flangeless construction and simplified assembly;
considerably less weight compared to ball valves (e.g. DN150: only 15 kg), easy transport;
special internal sealing ring eliminates the use of external flange gaskets;
negligible pressure drop, little gas flow disturbance;
low torque - possibility of using single-phase low power actuators (for valves with max. DN500 diameter);
possibility of selecting gaskets for aggressive media;
max working pressure 1 MPa (10 bar) – standard version; on request: 0.3 MPa, 0.6 MPa or 1.6 MPa;
no maintenance requirement – many years of failure-free operation.
Offered models
Model
Valve diameter
Connection
Connection diameter
Net price

C.g.

ZM/DN125
DN125
Flanged
DN125

€1,199.00

N

ZM/DN150
DN150
Flanged
DN150

€1,349.00

N

ZM/DN200
DN200
Flanged
DN200

€2,049.00

N

Designed for biogas
ZM/DN125-BIO
DN125
Flanged
DN125

€1,099.00

N

ZM/DN150-BIO
DN150
Flanged
DN150

€1,149.00

N

ZM/DN200-BIO
DN200
Flanged
DN200

€1,949.00

N
Model
Valve diameter
Connection
Connection diameter
Dimensions
Net price

C.g.

ZM/DN125
DN125
Flanged
DN125
280 x 550 x 160 mm

€1,199.00

N

ZM/DN150
DN150
Flanged
DN150
280 x 600 x 160 mm

€1,349.00

N

ZM/DN200
DN200
Flanged
DN200
380 x 680 x 220 mm

€2,049.00

N

Designed for biogas
ZM/DN125-BIO
DN125
Flanged
DN125
280 x 550 x 160 mm

€1,099.00

N

ZM/DN150-BIO
DN150
Flanged
DN150
280 x 600 x 160 mm

€1,149.00

N

ZM/DN200-BIO
DN200
Flanged
DN200
380 x 680 x 220 mm

€1,949.00

N