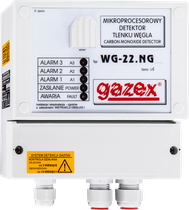 Ventilation controllers WG.NG
Threshold carbon monoxide (CO) detectors for ventilation control
WG-22.NG microprocessor-controlled detector is used for continuous monitoring of carbon monoxide (CO) levels in air. The monitoring is performed in premises where the gas is likely to occur, through periodic measuring of CO levels. When the preset threshold levels are exceeded, visual and acoustic alarms of the detector are engaged and its control outputs are activated.
Scope of application
Closed garages and underground parking lots – ventilation control
Boiler rooms with furnaces fuelled by solid or liquid fuels
Gas-fuelled boiler rooms
Production buildings where CO is likely to occur (technological processes)
Permanently manned premises adjacent to boiler rooms
Premises with equipment fuelled by coke-oven gas
Features
Measurement of carbon monoxide at extremely low levels;
Easily exchangeable sensor unit;
Built-in microprocessor controlling all functions of the detector = reliability, work stability, temperature compensation, fully automatic unit;
Gas detector + power supply + siren + control unit – all in one solid case, IP43;
Two (or three) independent alarm thresholds calibrated to industry standards or tailored to customer's requirements;
FAULT relay output triggered by detector failure, blown fuse or power supply failure;
12VDC alarm output to control external sirens or lamps;
12VDC power supply – model WG-22A; option: 24VAC/DC;
Optional: built-in battery back-up (up to 6h) – model WG-22B;
All detectors are calibrated in our own GAZEX Calibration Laboratory operating in accordance with PN-EN ISO/IEC 17025 (PCA accreditation No AP150).
Block diagram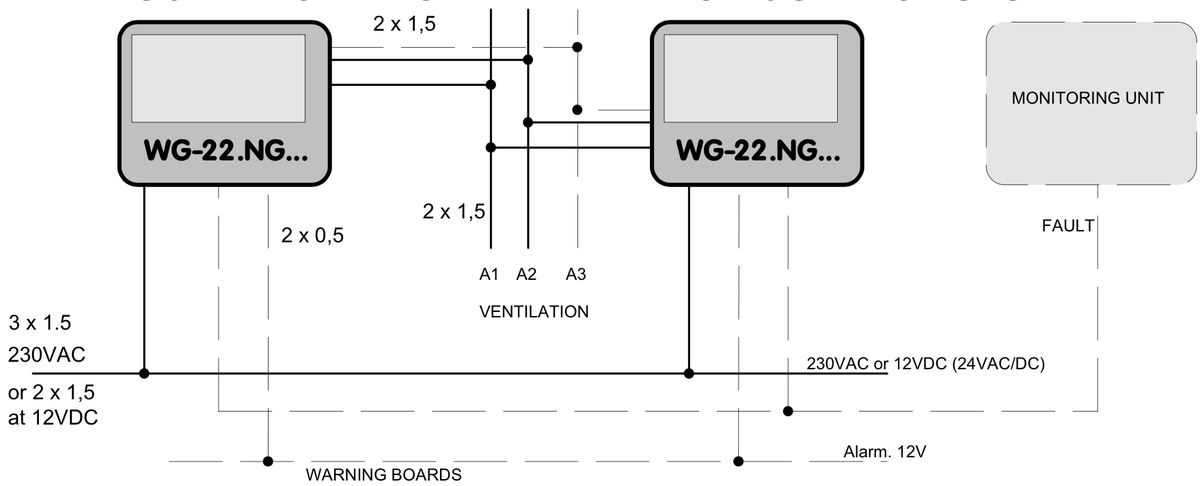 Offered models
Model
Gas sensor module
Sensor
Substance/property
Standard alarm thresholds or measuring range
Supply voltage
Net price

C.g.

WG-22.NG

MS-22.EG-EN
Semiconductor
Carbon monoxide (CO)

20/100/(300)

ppm

230VAC

PLN429.00

S

WG-22.NGBs

MS-22.EG-EN
Semiconductor
Carbon monoxide (CO)

20/100/(300)

ppm

230VAC

PLN719.00

N

WG-22.NGs

MS-22.EG-EN
Semiconductor
Carbon monoxide (CO)

20/100/(300)

ppm

230VAC

PLN569.00

N

WG-22.NGA

MS-22.EG-EN
Semiconductor
Carbon monoxide (CO)

20/100/(300)

ppm

12VDC

PLN449.00

S
Model
Gas sensor module
Sensor
Substance/property
Standard alarm thresholds or measuring range
Supply voltage
Contact control outputs
Voltage control outputs 12VDC
Two-state outputs (threshold)
Control output "Fault"
Output controlling the shut-off valve
Output in 4-20mA standard
Output in 0-10V standard
Output in 2-10V standard
Output in RS-485 standard
Visual signalling, built-in
Acoustic signaling, built-in
Internal battery
Dimensions
Net price

C.g.

WG-22.NG

MS-22.EG-EN
Semiconductor
Carbon monoxide (CO)

20/100/(300)

ppm

230VAC
2
1
—
165 x 190 x 96 mm

PLN429.00

S

WG-22.NGBs

MS-22.EG-EN
Semiconductor
Carbon monoxide (CO)

20/100/(300)

ppm

230VAC
2
1
—
165 x 190 x 96 mm

PLN719.00

N

WG-22.NGs

MS-22.EG-EN
Semiconductor
Carbon monoxide (CO)

20/100/(300)

ppm

230VAC
2
1
—
165 x 190 x 96 mm

PLN569.00

N

WG-22.NGA

MS-22.EG-EN
Semiconductor
Carbon monoxide (CO)

20/100/(300)

ppm

12VDC
2
1
—
165 x 190 x 96 mm

PLN449.00

S
Suggested products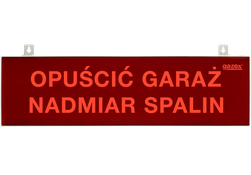 TP-4.s
Internal LED warning boards to visually present the alarm status appearing at the control outputs