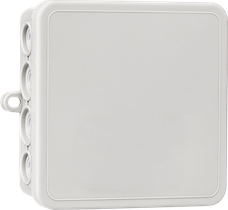 Digital bus terminal boxes CB-3
RS-485 bus terminal boxes designed for use in Digital Gas Detection System
CB-3 terminal boxes are designed for use in Digital Gas Detection System with addressable detectors (with RS-485 bus). The use of the boxes allows:
connecting to the digital bus an additional cable connecting to the detector or additional device (standard length up to 12m - or more in "serial" configuration);
using a separate, additional 24V= power supply cable on the bus (up to 2.5 mm2);
attaching additional devices/detectors to the existing bus ("insert" on the bus).
The box is equipped with a set of 5 pcs. of 3-jack connectors for connecting single- or multi-wire wires constituting the RS-485 bus.
Features
A set of 5 reliable WAGO installation connectors;
the connectors allow to realize connection of different types of wires with different cross-sections – single wire, cable, from 0.2 to 4 mm2;
possibility of quick, physical disconnection of specific cables from the bus – simplifies bus diagnostics;
glandless, sealed casing (IP55) with diaphragm seals;
clear internal mounting;
simple wall mounting (external brackets);
sold exclusively in sets of 6 sets of terminal boxes.
Block diagram

Offered models