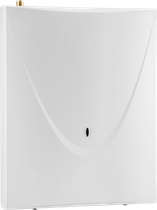 Modems GSM
Devices designed for remote monitoring of gas detection system status
GSM-M4 modems enable remote monitoring of the status of a gas detection system with MD type control modules manufactured by GAZEX.
The kit consists of a GSM 900/1800 type GSM-X modem with a built-in control and power cable, an external GSM antenna with a flexible connection cable, and a USB connection cable for PC.
After connecting the GSM-M4 to the MD type control unit terminal, each change in the status of the module's relay outputs causes a text message (SMS) to be sent to the mobile phone number(s) selected by the user.
Features
dual-band GSM 900/1800 modem with slots for 2 nanoSIM cards (any operator);
4 binary inputs – possibility of SMS notification of change on any of the inputs;
possibility of simple setting of up to 8 telephone numbers receiving an alarm SMS (programming via SMS sent to the modem equipped with an active SIM card);
possibility of configuring the modem's parameters (including modification of many non-standard functionalities) using a PC (via USB input); micro-USB/USB connection cable and CD with configuration software included.
Model
Dimensions
Net price

C/G

GSM-M4
126 x 158 x 30 mm

PLN699.00

C

GSM-M4/24
126 x 158 x 30 mm

PLN799.00

C
Suggested products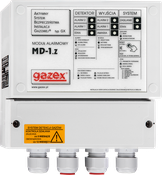 MD-1, MD-2, MD-4
Control and power supply units for 1 or up to 2/4 of DEX/F, DEX/A, DG/F or DG.EN threshold gas detectors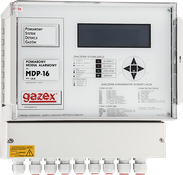 MDP-4, MDP-8, MDP-16
Measurement and control (also power supply) units for up to 4/8/16 measuring gas detectors types DEX/P, DG/P or threshold gas detectors types DEX/F, DEX/A, DG/F, DG.EN