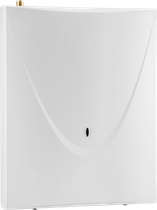 Device group:
Auxiliary accessories
Device type:
GSM
Description of device type
GSM modems are a set designed to remotely monitor the status of a gas detection system with control modules manufactured by GAZEX.
The set consists of a modem with a built-in control and power cable, an external GSM antenna with a flexible connecting cable and a connecting cable with a USB port of a PC.
Once the modem is connected to the module's terminal strip, any change in the status of the module's contact outputs or the shut-off valve causes a text message (SMS) to be sent to the GSM cell phone number(s) selected by the user.
Features
Dual-band GSM modem for 2G or 4G network cooperation, with nano SIM card slot (any operator);
8 currentless binary inputs - possibility of notification via SMS about a change of state on any of the inputs;
connection cable - one end connected in the modem, the other end prepared for connection and power supply from specific control unit terminals or system power supply (12/24V);
possibility of simple setting up to 8 phone numbers accepting SMS alarms (programming via SMS sent to the modem equipped with an active SIM card or configuration via PC);
possibility to configure modem parameters using a PC (via USB input including modification of many custom functionalities, control of 4 OC type outputs);
USB Micro-B/USB connection cable included.
---
Device model:
GSM-M8
Technical parameters
Supply voltage

12/24VDC

Dimensions

126 x 158 x 47 mm

EAN Code

5901769656468

Net price

PLN899.00

C
Documentation
| Series | Technical data | Device information sheet | Instruction manual | Declaration of conformity |
| --- | --- | --- | --- | --- |
| X LTE | — | — | — | — |
Suggested products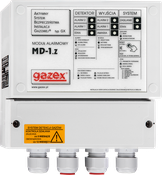 MD-1, MD-2, MD-4
Control and power supply units for 1 or up to 2/4 of DEX/F, DEX/A, DG/F or DG.EN threshold gas detectors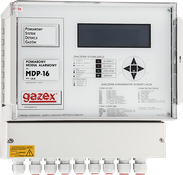 MDP-4, MDP-8, MDP-16
Measurement and control (also power supply) units for up to 4/8/16 measuring gas detectors types DEX/P, DG/P or threshold gas detectors types DEX/F, DEX/A, DG/F, DG.EN