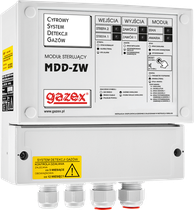 Addressable control units MDD-ZW
Addressable control units for MAG-3 shut-off valves
MDD-ZW digital control units are designed to control MAG-3 shut-off valves in Digital Gas Detection Systems (DGDS) manufactured by GAZEX.
They enable control of multiple MAG-3 valves from remote gas detection systems. In the DGDS they constitute an additional module for controlling valves, but they can also work with all MD type alarm units by GAZEX (regardless of version and date of production) or other systems with an alarm voltage output of approx. 12VDC.
MDD-ZW are a functional replacement for MD-X.ZA24/2 and MD-X.ZA/2. models.
Area of application
intelligent buildings with BMS systems;
public buildings;
halls heated by gas radiators;
logistic and storage bases.
Features
possibility to control from one to four MAG-3 valves (in 2 zones, 2 valves/outlets);
digital communication port RS-485 (MODBUS RTU protocol); functions:

assignment to one of address groups (max. 32 detectors) in DGDS;
closing the valve in zone 1 and/or 2;
RESET;
FAULT state reading;

FAULT relay output indicates all of the following: module damage, no connection of any valve, no confirmation of closing the valve – if the valve with closing control, faulty internal battery, or no or incorrect supply voltage);
long wired connection with the detection system possible (length of the bus between MDD-ZW and the extreme element of the DGDS system up to approx. 200m);
possibility to manually divide into 2 input/output zones (independently of DGDS);
two galvanically separated inputs (independent of DGDS) for compatibility with all MD modules and non-Gazex systems (with control output 5…30VDC);
two inputs to confirm the closing status of valves with end relay;
possibility of manual testing of valves (with a button under the cover of the clamp chamber);
universal supply 12/24VDC;
optical and acoustic signalling (possibility of muting) of the alarm signal (with memory – deleted manually with push-button on the cover or with DGDS);
can control other valves with COD type release coil or coil with similar parameters.
Offered models
Model
Maximum number of detectors
Power supply backup
Supply voltage
Net price

C.g.

MDD-ZW
—
12/24VDC

PLN569.00

N
Model
Maximum number of detectors
Alarm control outputs 12VDC
Contact control outputs
Emergency control output
Output controlling the shut-off valve
Alarm inputs
Analogue 4-20mA output
Analogue 2-10V output
Digital RS-485 output
Mounting on a TS35 rail
Power supply backup
Supply voltage
Dimensions
Net price

C.g.

MDD-ZW
—
—
—
2
12/24VDC
190 x 165 x 96 mm

PLN569.00

N