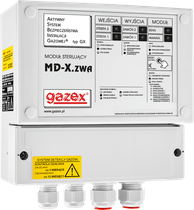 Additional control units MD-X.ZWA
MAG-3 shut-off valve control units in the Active Gas Safety System (ASBIG®)
Microprocessor control units MD-X.ZWA are designed to control MAG-3 shut-off valves in the Active Gas Safety Systems (ASBIG®) type GX manufactured by GAZEX.
They enable control of multiple MAG-3 valves from remote gas detection systems. They can control other valves with a COD type release coil or a coil with similar parameters. They work with all GAZEX MD type alarm units (regardless of version and date of production) or other systems with alarm output control 12VDC.
Unit is a functional replacement for MD-X.ZA/2 and MD-X.ZA24/2 models.
Area of application
industrial and housing estate gas-fired boiler plants;
public buildings;
halls heated by gas radiators;
warehouses and logistics centers.
Features
possibility to control up to four MAG-3 valves (max 2 for each output);
long cable connection with the detection system (distance between MD-X.ZWA and the system up to approx. 200÷400m);
universal power supply 12/24VDC;
relay output FAULT monitoring status (for all of the following): signals damage, no connection of any valve, no confirmation of valve closing (if valve with closing control), faulty internal battery, and no or incorrect supply voltage;
two inputs to confirm closing status of valves with end relay;
possibility of manual testing of valves (button under cover);
possibility of dividing into 2 input/output zones; galvanic separation of inputs;
compatibility with all MD modules and non-Gazex systems (with control output 5…30VDC);
optical and acoustic signalling (with memory – deletion by manual button on the cover);
signalling of the lack of valve connection;
Offered models
Model
Maximum number of detectors
Power supply backup
Supply voltage
Net price

C.g.

MD-X.ZWA
—
12/24VDC

PLN519.00

S
Model
Maximum number of detectors
Alarm control outputs 12VDC
Contact control outputs
Emergency control output
Output controlling the shut-off valve
Alarm inputs
Analogue 4-20mA output
Analogue 2-10V output
Digital RS-485 output
Mounting on a TS35 rail
Power supply backup
Supply voltage
Dimensions
Net price

C.g.

MD-X.ZWA
—
—
—
2
12/24VDC
190 x 165 x 96 mm

PLN519.00

S