Threshold gas detectors DD
Threshold detectors of toxic and combustible gases (also Freon HFC) used in public buildings (with RS-485 bus connectivity)
DD digital detectors are designed for continuous control of the presence of specified gases in rooms. The control consists in cyclic measurement of the concentration of a given gas in the air. When the specified concentration values are exceeded, the detector's optical alarm signaling is activated, the state of the contact output changes, and information is transmitted to the control module via the RS-485 industrial standard network. The detectors are designed for cooperation in Digital Gas Detection System.
The detector has a replaceable sensor module, which improves maintenance and reduces operating costs.
Scope of application
hotels, offices, public buildings,
extensive buildings with rooms at risk of emission of specified toxic or explosive gases.
Features
replaceable sensor with long-term durability (more than 10 years);
standard calibrated 3 alarm thresholds (A1/A2/A3);
digital communication with detection system via isolated RS-485 port, with MODBUS RTU protocol; remote monitoring, identification and diagnostics;
built-in control microprocessor = reliability, operating stability, thermal compensation circuit, history of alarm conditions, simplified addressing procedure;
NO and NC (low-voltage) contact output, bistable relay, responding at A2 as standard (can be assigned to A1, A3 or fault);
built-in acoustic signaling (jumper-disable), differentiated for individual alarm thresholds;
ease of installation and connection via shielded telecommunications cable, removable double screwless terminals (possibility to "unplug" the detector from the bus);
very short penetration time of gases through the sensor cover;
aesthetically pleasing wall-mounted housing, white (standard) or matte black, with the possibility of inserting the cable from under the plaster or mounting to a typical Ø60mm flush-mounted installation box (with screws on the rim).
configuration of detector settings via dedicated configuration software DETnet View;
all detectors are calibrated in GAZEX Calibration Laboratory operating in accordance with PN-EN ISO/IEC 17025 (PCA accreditation no. AP150).
Block diagram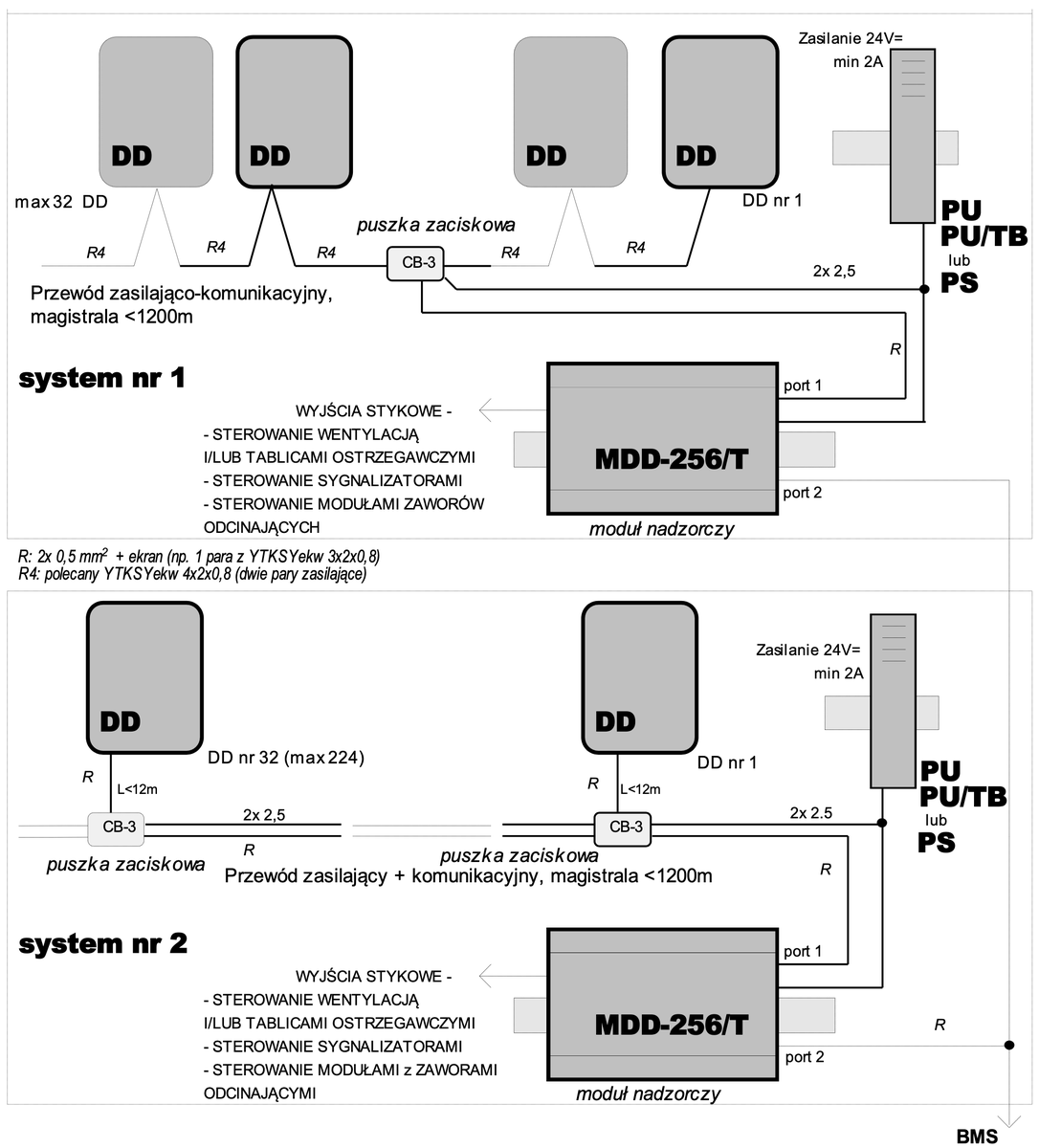 Offered models
Model
Gas sensor module
Sensor
Substance/property
Standard alarm thresholds or measuring range
Supply voltage
Net price

C.g.

DD-14

MS-DD-14
Semiconductor
Methane (CH4)

10/20/30

%LEL

12/24VDC

PLN289.00

N

DD-15

MS-DD-15
Semiconductor
Liquefied petroleum gas (LPG)

10/20/30

%LEL

12/24VDC

PLN289.00

N

DD-22

MS-DD-22
Semiconductor
Carbon monoxide (CO)

20/100/300

ppm

12/24VDC

PLN289.00

N

DD-61

MS-DD-61
Semiconductor
Hydrofluorocarbon (R410A)

1000/2000/2500

ppm

12/24VDC

PLN289.00

N

DD-62

MS-DD-62
Semiconductor
Hydrofluorocarbon (R410A)

6000/6000/6000

ppm

12/24VDC

PLN289.00

S

DD-P8R

MS-DD-P8R
Infra-red
Carbon dioxide (CO2)

800/1400/1800

ppm

12/24VDC

PLN529.00

N
Model
Gas sensor module
Sensor
Substance/property
Standard alarm thresholds or measuring range
Supply voltage
Contact control outputs
Voltage control outputs 12VDC
Two-state outputs (threshold)
Control output "Fault"
Output controlling the shut-off valve
Output in 4-20mA standard
Output in 0-10V standard
Output in 2-10V standard
Output in RS-485 standard
Visual signalling, built-in
Acoustic signaling, built-in
Internal battery
Dimensions
Net price

C.g.

DD-14

MS-DD-14
Semiconductor
Methane (CH4)

10/20/30

%LEL

12/24VDC
1
—
—
80 x 103 x 32 mm

PLN289.00

N

DD-15

MS-DD-15
Semiconductor
Liquefied petroleum gas (LPG)

10/20/30

%LEL

12/24VDC
1
—
—
80 x 103 x 32 mm

PLN289.00

N

DD-22

MS-DD-22
Semiconductor
Carbon monoxide (CO)

20/100/300

ppm

12/24VDC
1
—
—
80 x 103 x 32 mm

PLN289.00

N

DD-61

MS-DD-61
Semiconductor
Hydrofluorocarbon (R410A)

1000/2000/2500

ppm

12/24VDC
1
—
—
80 x 103 x 32 mm

PLN289.00

N

DD-62

MS-DD-62
Semiconductor
Hydrofluorocarbon (R410A)

6000/6000/6000

ppm

12/24VDC
1
—
—
80 x 103 x 32 mm

PLN289.00

S

DD-P8R

MS-DD-P8R
Infra-red
Carbon dioxide (CO2)

800/1400/1800

ppm

12/24VDC
1
—
—
80 x 103 x 32 mm

PLN529.00

N