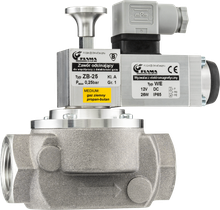 ZB-65
Device group:
Shut-off valves
Device type:
ZB
Description of device type
Shut-off valves type ZB are fast closing globe valves for use with gas detectors (gas detection systems).
They are opened only manually and closed with an electric impulse (12VDC) or manually with a button. Both the opened and closed positions do not require power supply.
Activation of the valves – i.e. immediate cut-off of gas supply to a device or installation – results from electric impulse from the gas detection system upon gas concentration exceeding the preset threshold..
Area of application
in gas installation safety systems: in gas boiler rooms, residential buildings, etc;
in low-pressure gas installations;
may additionally serve as a manual shut-off cock.
Features
both opened and closed positions do not require power supply – they are energy efficient (an electrical pulse of 12V= with a duration of only < 1s is needed to close the valve);
insensitive to system supply voltage loss – its absence or momentary disappearance does not cause changes in gas flow through the valve;
resistant to any disturbances that may cause the valve to open accidentally when closed (only conscious action by supervisors);
low force required to open the valve;
simple, cost-effective, reliable and lightweight design;
equipped with a mesh filter which guarantees long life;
maximum operating pressure 25 kPa (0.25 bar);
meets the requirements of PN-EN161.
---
Device model:
ZB-65
Technical parameters
Valve diameter

DN65

Nominal pressure

0.025 MPa

Connection

Threaded

Connection diameter

2 1/2"

Direction of gas flow

direction according to the arrow on the housing

Opening / closing the valve

opening only manually; closing by electric pulse (12VDC) or manually

Standard equipment

...

Dimensions

240 x 222 x 170 mm

EAN Code

5901769650831

Net price

PLN1,590.00

N
Documentation
| Series | Technical data | Device information sheet | Instruction manual | Declaration of conformity |
| --- | --- | --- | --- | --- |
| 2/2010/KK | — | — | — | — |