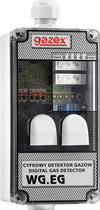 WG-28.EG/A24
Device group:
Ventilation controllers
Device type:
WG.EG
Description of device type
WG.EG digital gas detectors are designed for continuous monitoring of excess vehicle exhaust fumes and presence of explosive gases in closed garages.
When preset threshold values are exceeded, the optical alarm signalling of the detector and the control outputs are activated.
Area of application
enclosed garages and underground parking lots,
vehicle control stations and workshops,
warehouses, loading bays and logistics centers.
Features
concentration measurement of carbon monoxide, methane or carbon dioxide;
built-in microprocessor control – reliability, operational stability, thermal compensation, event history, testing and calibration without interfering with the inside of the housing;
interchangeable gas sensor guarantees simple and cheap operation;
the detector is fully automatic, no adjustments required;
3 alarm thresholds (for CO according to European standard PN-EN 50545-1:2012);
3 separated outputs with the possibility of configuration of the common connection (selection of the function with a switch), additional set of connectors for connecting further detectors;
possibility to use A3 output as a fault or to control a second set of alarm devices, e.g. separately for CO and LPG in a garage;
all terminals removable, with the possibility of direct connection of multi-wire cables (wire type);
one-piece design: replaceable gas sensor + power supply + controls in one robust, splash-proof housing (IP54 in recommended mounting position);
all detectors are calibrated in our own GAZEX Calibration Laboratory operating in accordance with PN-EN ISO/IEC 17025 (PCA accreditation No AP150).
---
Device model:
WG-28.EG/A24
Technical parameters
Gas sensor module
Sensor
Substance/property
Standard alarm thresholds or measuring range
MS-28.EG
Semiconductor
Carbon monoxide (CO)

30/60/150

ppm

Infra-red
Carbon dioxide (CO2)

1000/1400/1800

ppm


Contact control outputs

3

Control output "Fault"

Visual signalling, built-in

Supply voltage

24VDC

Dimensions

80 x 195 x 68 mm

EAN Code

5901769652200

Net price

PLN659.00

N
Documentation
| Series | Technical data | Device information sheet | Instruction manual | Declaration of conformity |
| --- | --- | --- | --- | --- |
| W4 | — | — | — | — |
Suggested products