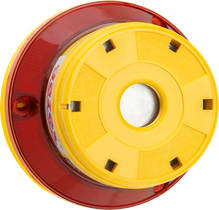 SL-32v24
Device group:
Visual and acoustic warning devices
Device type:
SL-32
Description of device type
SL-32 sirens are designed for visual and acoustic signalling of alarm conditions on 12VDC alarm outputs of MD, MDP, MDD type control modules or WG.NG and AirTECH type detectors.
SL-32v24 version sirens (powered by 24VDC) can be used in systems with MDD control units or industrial installations.
Alarm devices have a splash-proof construction – they can be used both inside and outside buildings.
Functional features
light source: high-performance LEDs;
extremely high durability and reliability;
very low power consumption;
piezoceramic acoustic transducers;
independent control of acoustic and visual signalling, 3 terminals;
splash-proof housing - for outdoor use.
---
Device model:
SL-32v24
Technical parameters
Visual signalling

pulsating, red

Acoustic signaling

105 or 70 dB/1m

Supply voltage

24VDC

Dimensions

85 x 85 x 60 mm

EAN Code

5901769650374

Net price

PLN129.00

N
Documentation