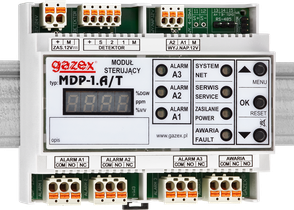 MDP-1.A/TM/V10
Device group:
Measuring & threshold control units
Device type:
MDP-1.A/T
Description of device type
Microprocessor-controlled Control Unit type MDP-1.A/T was designed to work with single gas detector type DEX/P, DG/P (also type DEX/F, DEX/A, DG/F, DG.EN) produced by GAZEX.
MDP-1.A/T periodically measures and checks detector signal. When the gas concentration exceeds the preset threshold the visual alarm turns on, the control outputs are activated and the alarm information can be sent over the RS-485 port with MODBUS Protocol (model MDP-1.A/TM).
Scope of application
local toxic, oxygen or explosive gas detection systems
individual protection installations in industrial areas
dispersed detection systems
Features
one gas detector input (for DEX/DG/P or DEX/A or DEX/DG/F type), power supply with current limitation and connection control
gas concentration value LED display and steering outputs (A1, A2, A3 and fault) status optical signalization (LEDs)
A1, A2 alarms 12VDC separate outputs for the external signaling devices
separated relay outputs ( A1, A2, A3 and fault) for the external signaling devices or fans steering; pluggable connectors;
keyboard for operation;
option MDP-1.A/TM: communication port RS-485 (MODBUS RTU Protocol), remote control, diagnostics and identification of gas detector in local net;
option MDP-1.A/TM/420 (or /V10): 4-20mA (or 2-10V) analog output
case for mounting in standard cabinets (TS35 DIN rail)
12VDC supply (with LED signalization)
---
Device model:
MDP-1.A/TM/V10
Technical parameters
Maximum number of detectors

1

Alarm control outputs 12VDC

2

Contact control outputs

3

Emergency control output

Analogue 2-10V output

Digital RS-485 output

Mounting on a TS35 rail

Supply voltage

12VDC

Dimensions

106 x 90 x 65 mm

EAN Code

5901769653368

Net price

PLN779.00

N
Documentation
Suggested products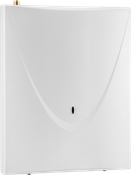 Modems GSM
Devices designed for remote monitoring of gas detection system status