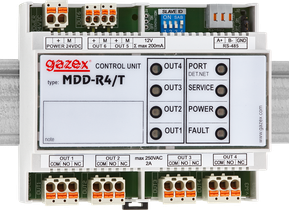 MDD-R4/T
Device group:
Addressable control units
Device type:
MDD-R4/T
Description of device type
MDD-R4/T digital executive units are designed to expand the Digital Gas Detection System (DGDS). They enable local control of actuators/signalling devices for a selected group of up to 32 detectors working in the DGDS. They have four relay outputs and two 12VDC alarm outputs.
MDD-R4/T are units that require MDD-256/T type supervisory unit in the system. Communication with the supervisory unit is carried out in the industrial standard RS-485, compliant with the MODBUS RTU protocol. The MDD-R4/T control unit cyclically receives information from the supervisory unit about the alarm status of a selected group of detectors and realizes the set alarm functions by switching on the optical alarm signaling and activating its own relay and 12VDC alarm outputs.
Features
simple setup of independent groups/detectors zones (max. 32 pieces per group) with local control of actuators (max. 3 MDD-R4/T units per group):
communication with MDD-256/T type supervisory module in RS-485 standard (MODBUS RTU, galvanically isolated port);
optical indication of relay output states OUT1, OUT2, OUT3, OUT4;
alarm outputs 12VDC OUT5 and OUT6, to control acoustic and optical signaling devices;
contact outputs (galvanically separated) OUT1, OUT2, OUT3 and OUT4, to control fans, motors, contactors, information boards or to connect with building/plant automation;
all removable terminals, with the possibility of connecting wires and cables (without sleeves), allow the use of cost-effective installation materials; quick installation, commissioning and replacement;
enclosure for TS35 rail mounting in standard electrical switchgear;
configuration of unit settings via the MDD-256/T supervisor unit (manually using the front panel keyboard) or via the dedicated configuration software "MDD256 View", available at https://www.gazex.pl/en/software/.
---
Device model:
MDD-R4/T
Technical parameters
Alarm control outputs 12VDC

2

Contact control outputs

4

Emergency control output

Digital RS-485 output

Mounting on a TS35 rail

Supply voltage

24VDC

Dimensions

106 x 90 x 65 mm

EAN Code

5901769651388

Net price

PLN469.00

N
Documentation
Series
Technical data
Device information sheet
Instruction manual
Declaration of conformity

W3

—
—
—
Download file
Archived series

W2

—
—
—
—

U1

—
—
—
—
Suggested products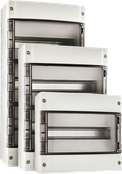 Modular switchgear RZ+
Modular switchgear with TS35 rails, equipped and wired according to customer requirements (ready for installation)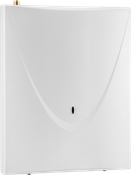 Modems GSM
Devices designed for remote monitoring of gas detection system status