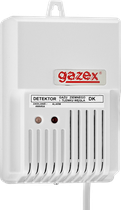 DK-12.Z
Device group:
Household gas detectors
Device type:
DK-nn
Description of device type
Household gas detectors type DK-nn are used for continuous monitoring of combustible gases, carbon monoxide or freon gases in residential and ancillary rooms, endangered by their leakage.
Detection of dangerous gas concentration is signalled by activation of optical and acoustic alarm signalling and appropriate alarm control outputs activation. The detectors are equipped with a replaceable sensor module, which guarantees simple and cheap operation.
Area of application
oil or gas-fired boiler plants (with boilers without flue gas flow sensor);
kitchens and bathrooms equipped with gas appliances e.g. cookers, ovens, water heaters (with open combustion chamber);
rooms containing gas appliances such as: valves, gas meters, cylinders, tanks, gas pipes (basements, corridors);
rooms with a fireplace, or coal or wood-burning stoves;
rooms heated by portable propane-butane stoves;
domestic garages;
solid fuel-fired boiler rooms;
school laboratories;
rooms with air conditioning or refrigeration equipment (freon leaks).
Features
microprocessor-controlled;
external siren control;
can work with many devices;
the detectors are covered by a 3-year warranty;
all detectors are calibrated in our own GAZEX Calibration Laboratory operating in accordance with PN-EN ISO/IEC 17025 standard (PCA accreditation no. AP150).
---
Device model:
DK-12.Z
Technical parameters
Gas sensor module
Sensor
Substance/property
Standard alarm thresholds or measuring range
MS-12.DK
Semiconductor
Methane (CH4)

15

%LEL


Output controlling the shut-off valve

Visual signalling, built-in

Acoustic signaling, built-in

Supply voltage

230VAC

Dimensions

85 x 140 x 55 mm

EAN Code

5901769650688

Net price

PLN199.00

S
Documentation
Series
Technical data
Device information sheet
Instruction manual
Declaration of conformity

U6

—
—
—
—
Archived series

U5

—
—
—
Download file