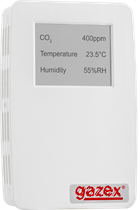 AirTECH.eko+/D
Device group:
Ventilation controllers
Device type:
AirTECH eko+
Description of device type
AirTECH eko+ is an ventilation controller designed to monitor indoor carbon dioxide concentration at the range of 0÷2000 ppm (optionally up to 3000 ppm).
AirTECH eko+ is designed to be used in offices, schools, bars, restaurants, cinemas, and apartments. Measurement of CO2 is realized by state-of-the-art non-dispersive infrared (NDIR) sensor.
AirTECH eko+ is supplied with relay outputs to control the ventilation system according to ventilation requirements. AirTECH eko+ maintains the high indoor air quality and saves energy costs of ventilation system and/or air conditioning (heating/cooling).
Adequate ventilation reduces temporary sickness, downtime and loss of productivity.
Features
AirTECH eko+ consists of two units: CO2 sensor (to be mounted in the monitored room) and steering/supplying module.
CO2 sensor:
state-of-the-art non-dispersive infrared (NDIR) technology to measure carbon dioxide gas concentration
two alarm levels (set at factory)
internal automatic self diagnostic and calibration
long sensor operating lifetime (> 10 years)
wall-mounted housing
optionally: LCD display
Steering/supplying module
IP44 housing
connection to Sensor by either four wiring phone cable or UTP cable (max 50 m)
two relay outputs (max 250VAC)
low power supply (230VAC, no power-ON switch)
Connection diagram

---
Device model:
AirTECH.eko+/D
Technical parameters
Sensor
Substance/property
Standard alarm thresholds or measuring range
Infra-red
Carbon dioxide (CO2)

0 ÷ 3000

ppm


Contact control outputs

2

Visual signalling, built-in

Additional parameters

LCD display

Supply voltage

230VAC

Dimensions

sensor: 67 x 106 x 26; moduł: 112 x 100 x 40 mm

EAN Code

5901769651944

Net price

PLN919.00

N
Documentation
Series
Technical data
Device information sheet
Instruction manual
Declaration of conformity

W3

—
—
—
—
Archived series

W2

—
—
—
—