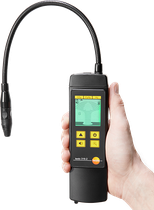 Portable gas detectors Testo 316-2
Product withdrawn from sale
Portable gas detectors designed to detect leaks of low concentration combustible gases from gas and industrial installations
Testo 316-2 detectors are designed to detect leakage of low concentration gases from gas and industrial installations. They are recommended for maintenance of domestic and industrial gas installations/equipment, automotive LPG supply systems, etc.
The devices are of normal construction and cannot be used in areas defined as explosive gas, liquid vapour or dust explosion hazard.
Features
built-in battery - working time at full charge approx. 6 hours;
short response time t90 < 2 s (built-in suction pump);
high sensitivity to explosive gases (lower response threshold – 10 ppm);
switch to choose the detected gas: methane, propane, hydrogen;
flexible, long measuring probe;
18-segment LCD display + battery charge indicator;
two alarm levels;
a switch for acoustic signalling and an external receiver (standard);
built-in semiconductor sensor (service life approx. 3 years);
optional: FT-316 case containing the detector, charger, handset, user manual.