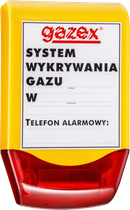 Visual and acoustic warning devices SL-21
Visual and acoustic warning devices for visual and acoustic signalling of alarm conditions
SL-21 sirens are designed for visual and acoustic signalling of alarm conditions on 12VDC alarm outputs of MD, MDP, MDD type control modules or WG.NG and AirTECH type detectors.
The sirens have a splash-proof construction, i.e. they can be used both inside and outside buildings.
Features
Piezoceramic acoustic transducers;
two jumper-adjustable sound levels;
light source: high-performance LEDs;
extremely high durability and reliability;
very low power consumption;
independent control of acoustic and visual signalling, 3 terminals;
splash-proof housing - for outdoor use.
Offered models