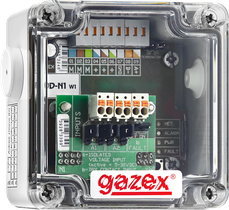 Addressable control units MDD-N1
Addressable alarm input connection units for connecting any dual-threshold gas detection system to a Digital Gas Detection System
MDD-N1 interface units are used to connect a single dual-threshold detector to the Digital Gas Detection System (DGDS). MDD-N1 processes alarm signals of a dual-threshold detector and the relay output fault, and sends them to the supervisory module (MDD-256/T). The MDD-N1 with the connected detector occupies one address in the detectors' address space (it is treated as a "detector" by the DGDS supervision module).
Features
3 voltage-free inputs (controlled from the external system's relayoutputs), including 2 configurable to connect external 12VDC alarm outputs;
RS-485 port, MODBUS RTU protocol, galvanically isolated;
"non-contact" testing (magnetically, without opening the case);
24VDC power supply from the bus with a single FTP cable;
all screwless terminals, removable;
input terminals with the possibility of connecting multi-strand wires (no crimping of sleeves) = very simple and quick connection/installation, easy maintenance;
tight, mechanically resistant housing;
configuration of the module settings via the MDD-256/T supervisory module (manually using the front panel keyboard) or via the dedicated "DETnet View" configuration software, available at https://www.gazex.pl/en/software/.
Offered models
Model
Maximum number of detectors
Power supply backup
Supply voltage
Net price

C.g.

MDD-N1
—
24VDC

PLN259.00

N
Model
Maximum number of detectors
Alarm control outputs 12VDC
Contact control outputs
Emergency control output
Output controlling the shut-off valve
Alarm inputs
Analogue 4-20mA output
Analogue 2-10V output
Digital RS-485 output
Mounting on a TS35 rail
Power supply backup
Supply voltage
Dimensions
Net price

C.g.

MDD-N1
—
—
—
3
24VDC
92 x 82 x 55 mm

PLN259.00

N