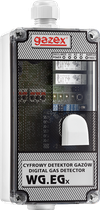 WG-22.EGx/A
Device group:
Ventilation controllers
Device type:
WG.EGx
Description of device type
The WG.EGx detectors are used for continuous monitoring of specific gases in closed spaces. Monitoring is performed by cyclic measurements of the concentration of gas in the ambient air. When the predetermined threshold level(s) are exceeded, visual alarms of the detector, its control outputs and a siren are activated.
WG.EGx is equipped with the easily exchangeable sensor = low operating costs.
The gas detection system build with WG.EGx detectors is very economical and straightforward to install.
Scope of application
closed garages and underground parking lots – ventilation control
boiler rooms with furnaces fuelled by solid, liquid or gas fuels
rooms with cooling equipment, air-conditioning or heat pumps
loading zones for trucks
rooms at risk of excess oxygen (oxygen therapy, HFNO)
Features
Measurement of carbon monoxide (CO), methane (CH4) or carbon dioxide (CO2) at low concentrations;
1, 2 or 3 independent alarm thresholds calibrated to factory standards or tailored to customer's requirements;
Easy exchangeable sensor unit = low operating costs;
3 standard relay outputs (NO type), built-in siren and optionally terminals for external siren;
Removable terminals with a self-locking connectors = easy and fast system set-up;
Built-in microprocessor controlling all functions of the detector = reliability, work stability, temperature compensation circuit, fully automatic operation;
Gas detector + power supply + control unit + siren = all in one solid case, splash proof (IP54);
Option: 12VDC or 24VDC power supply;
All detectors are calibrated in our own GAZEX Calibration Laboratory operating in accordance with PN-EN ISO/IEC 17025 (PCA accreditation No AP150).
---
Device model:
WG-22.EGx/A
Technical parameters
Gas sensor module
Sensor
Substance/property
Standard alarm thresholds or measuring range
MS-22.EG
Semiconductor
Carbon monoxide (CO)

30/60/150

ppm


Contact control outputs

3

Control output "Fault"

Visual signalling, built-in

Acoustic signaling, built-in

Supply voltage

12VDC

Dimensions

80 x 195 x 68 mm

EAN Code

5901769654891

Net price

PLN459.00

N
Documentation
Suggested products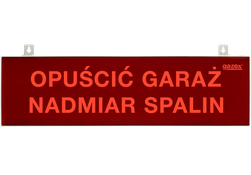 TP-4.s
Internal LED warning boards to visually present the alarm status appearing at the control outputs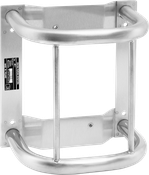 Tubular shields AR-1
Profiled tube guards to protect the detector from direct mechanical damage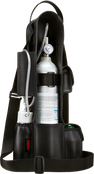 Gas test sets GTS
Test sets for verifying the correct operation of detectors by injecting a gaseous test mixture into the measuring chamber of the detector