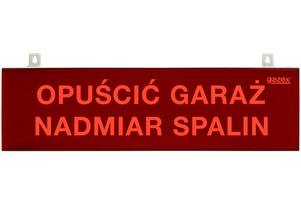 TP-4.s2/H2
Device group:
Warning boards
Device type:
TP-4.s
Description of device type
TP-4.s illuminated warning boards are designed to warn users of premises (typically garages) of the alarm signaled by WG detectors (underground garages) or MD type control modules (toxic gas detection systems) manufactured by GAZEX.
Warning boards come with default warning or communication signs (standard or customized to Client's requirements) displayed on illumination (in alarm mode).
Devices cannot be used in premises identified as zones with explosive atmosphere risk.
Features
modern, legible displays (standard font height - 35mm)
signs invisible when not illuminated, displayed when power is on
eye-catching pulsating red illumination
light source: high-capacity LED diodes; sound: small buzzer
high resistance and reliability, very low energy consumption
3-wire connection (with- or without siren)
two-element structure: TP-4.As board + power adapter 12VDC in a connecting box (TPZ-4)
simple installation on walls (can be suspended - double-sided version)
/H0 models – any inscription, according to specification: 2 rows of inscriptions, 20 characters max. per row.
---
Device model:
TP-4.s2/H2
Technical parameters
Visual signalling

pulsating, red

Information lettering

OPUŚCIĆ GARAŻ NADMIAR SPALIN

Acoustic signaling

60 dB/1m or 75 dB/1m

Supply voltage

230VAC

Dimensions

555 x 155 x 23 mm

EAN Code

5901769654716

Net price

PLN389.00

S
Documentation
Series
Technical data
Device information sheet
Instruction manual
Declaration of conformity

2021

—
—
—
—
Archived series

2018

—
—
—
—