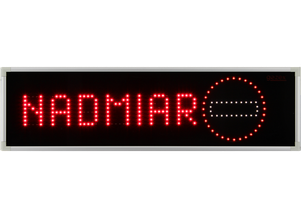 TL-4/H3
Device group:
Warning boards
Device type:
TL-4
Description of device type
TL-4 warning boards are designed to visually present the alarm status appearing at the control outputs of WG detectors or MDD control modules (exhaust gas control systems in underground garages).
They are equipped with a sequential warning sign "NADMIAR / SPALIN" ("Dangerous level of exhaust gases") and the outline of a road sign [no entry]. The inscription and sign appear only in the active state (in the alarm state of the exhaust gas control system). The inscription is legible even in full sunlight due to powerful LEDs.
Boards are designed to be placed above the gate/entry to the underground garage, outside the building. They cannot be used in spaces defined as explosion hazard zones of gases, vapours or dusts.
Features
modern visual form, legible inscription (letter height 60 mm);
the inscription consists of strongly red LEDs and appears when the power is switched on;
the words appear sequentially with the outline of the road sign [entry ban] – they draw the attention of the observer;
light source: high-performance LEDs with high durability and reliability;
very low power consumption;
low voltage version: TL-4.A/H3 – universal supply 12/24VDC;
TL-4/H3 – two-part construction: TL-4.A/H3 board + TPZ-4 12VDC power supply unit (in a junction box with flexible, flat passages);
aesthetic wall mounting (2 mounting points, connection and connection cable under the tilting panel);
optionally available: metal top cover with spikes to prevent birds from sitting (APTK).
Active status preview

---
Device model:
TL-4/H3
Technical parameters
Visual signalling

black letters on an illuminated yellow background

Information lettering

NADMIAR SPALIN (words appear sequentially every ~1 sec.)

Supply voltage

230VAC

Dimensions

560 x 155 x 60 mm

EAN Code

5901769654778

Net price

PLN469.00

C
Documentation
Series
Technical data
Device information sheet
Instruction manual
Declaration of conformity

2021

—
—
—
—
Archived series

2019

—
—
—
—
Suggested products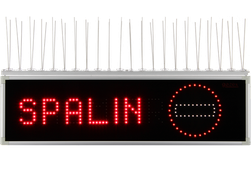 Bird protection cover APTK
Metal top cover with spikes against birds for the warning sign type TL-4