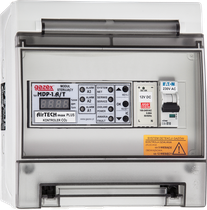 MDP-1.plus/M
Device group:
Measuring & threshold control units
Device type:
MDP-1.plus
Description of device type
The MDP-1.plus models are ready to install (wired) sets of the MDP-1.A/T measuring control units, 12VDC modular power supply unit and a double disconnector, placed in a sealed enclosure (mini switchboard).
The MDP-1.A/T digital measuring control units are designed for use with a single DEX/P, DG/P or a single DEX/F, DEX/A, DG/F or DG.EN dual-threshold gas detector. MDP-1.A/T supplies power and monitors detector outputs providing control of the detector.
When preset concentration values are exceeded, the optical alarm, and relay and voltage alarm outputs of the unit are activated (optional: communication via RS485).
Application area
detection systems of toxic or explosive gases (or oxygen);
individualized protection of industrial premises or equipment;
dispersed gas detection systems.
Features
power supply and control of one DEX/P, DG/P or DEX/F, DEX/A, DG/F or DG.EN type dual-threshold detectors;
control of the state of the wired connection to the detector (signals the interruption of any wire);
configuration of the unit, setting of alarm threshold values (including "window" detection) using the keypad on the front panel;
optical indication of signal values (LED display) and states of control outputs A1, A2, A3 and detector failure (LED lights);
alarm outputs 12VDC (one for each threshold A1 and A2) - power supply of acoustic and optical signalling devices;
relay outputs (galvanically separated, one for A1, A2, A3 and Failures) - control of fans, contactors, information boards;
optional: analogue output 4-20mA or 2-10V;
optional: port in RS-485 standard, MODBUS RTU protocol; can be ordered in combination with option with analogue output;
power supply indicated by an LED;
removable, screwless terminals, possibility of using single- or multi-strand cable (without crimping sleeves);
the models are equipped with a standard enclosure/ electrical switchgear, IP54;
optionally for models equipped with RS-485 port: configuration and visualization of work through dedicated software "DETnet View" - available at https://www.gazex.pl/en/software/.
---
Device model:
MDP-1.plus/M
Technical parameters
Maximum number of detectors

1

Alarm control outputs 12VDC

2

Contact control outputs

3

Emergency control output

Digital RS-485 output

Supply voltage

230VAC

Dimensions

200 x 190 x 75 mm

EAN Code

5901769651319

Net price

PLN949.00

N
Documentation
Series
Technical data
Device information sheet
Instruction manual
Declaration of conformity

W4

—
—
—
—
Archived series

W3

—
—
—
—

W2

—
—
—
—
Suggested products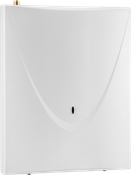 Modems GSM
Devices designed for remote monitoring of gas detection system status