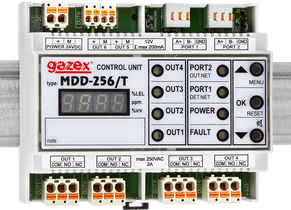 MDD-256/T
Device group:
Addressable control units
Device type:
MDD-256/T
Description of device type
MDD-256/T control units are designed for supervision of Digital Gas Detection System consisting of digital detectors type DD, DG/M or DG.EN/M and digital control units type MDD, MDP, MD equipped with RS-485 digital communication port. The communication is in MODBUS RTU protocol.
MDD-256/T supervisory mode performs cyclic checks the status of individual detectors/devices on the bus, and as soon as certain event appears or certain alarm parameters are exceeded, optical alarm signaling is activated, control outputs are activated, and information is transmitted via the digital network to any system/control/visualisation component.
Features and functions
supervision and management of the network of digital detectors (max 224 units; 7 groups of max 32 detectors each) and additional digital control units (up to 21 units freely arranged in groups, max 14 additional units of the same type);
controls the status of the wired connection to the detectors/devices;
communication in RS-485 standard (MODBUS RTU), galvanically isolated ports;
additional RS-485 communication port for compatibility with external supervisory control unit or with systems of "smart buildings" – BMS; galvanically isolated port;
optical (LED display) and acoustic signalling (built-in siren) of alarm and emergency states of individual detectors and states of control outputs OUT1, OUT2, OUT3, OUT4;
very simple, intuitive start-up of the system with standardized properties and settings;
operating modes: "SILENT WORK" - muted inside the mermaid; "WITH MEMORY" - signals alarms after they disappear, "UPHOLDING" - sustains active alarm states after the alarm source disappears, "WITHOUT MEMORY" - will automatically reset the input and output states on the front panel after the alarm states disappear, "SERVICE" - deactivates unit's outputs for 1 hour;
possibility of precise determination of alarm signal delay times;
12VDC alarm outputs (one for each A1 and A2 threshold) to control additional acoustic and optical sirens; optional: configurable according to customer needs;
relay outputs (galvanically separated, one for each A1, A2, A3 and Failure) - control of fans, motors, contactors, information boards or connection to building/plant automation; optional: configurable according to individual customer needs;
contact output "OUT4" active in the units's emergency state, in the event of a failure of the connection line with the detector or power failure; optional: configurable according to the Customer's needs;
all connectors with removable terminals (connection of single and multi-strand wires (without sleeves));
enclosure suitable for mounting on TS35 rail in standard electrical switchgear;
configuration of unit's settings using front panel keyboard or through dedicated configuration software "MDD256_View", available at https://www.gazex.pl/en/software/.
Block diagram

---
Device model:
MDD-256/T
Technical parameters
Maximum number of detectors

224

Alarm control outputs 12VDC

2

Contact control outputs

4

Emergency control output

Digital RS-485 output

Mounting on a TS35 rail

Supply voltage

24VDC

Dimensions

106 x 90 x 65 mm

EAN Code

5901769651364

Net price

PLN769.00

S
Documentation
Suggested products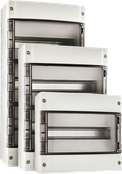 Modular switchgear RZ+
Modular switchgear with TS35 rails, equipped and wired according to customer requirements (ready for installation)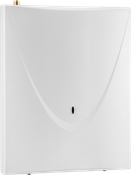 Modems GSM
Devices designed for remote monitoring of gas detection system status