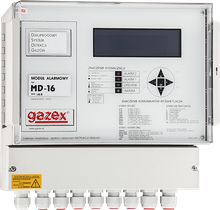 MD-16.B
Product model withdrawn from sale
Device group:
Threshold control units
Device type:
MD-8, MD-16
Description of device type
MD-8 and MD-16 dual-threshold alarm modules are designed to control and supply up to 8/16 threshold gas detectors for use in the Dual Threshold Gas Detection System or in the Active Gas Security System GX (ASBIG®). When using the K-8P or K-16P wiring hub, it is possible to control DEX/F, DG/F, DG.EN, WG, AirTECH type threshold detectors.
The MD Digital Alarm Module can control from one to eight (MD-8…) or up to sixteen (MD-16…) detectors.
The MD module can control additional external optical and acoustic sirens and enables control of other devices via relay outputs and digital port RS-232 or RS-485 (optional). It can work with other modules or systems via opto-isolated inputs. Module in version Z can control gas cut-off valves.
Features
compatibility with threshold detectors manufactured by GAZEX e.g. DEX/F, DG/F, DG.EN as well as detectors with relay output e.g. WG, AirTECH;
optional: after changing the control software it is possible to use GAZEX measuring sensors with a standard 4-20mA passive output e.g. DEX/P, DG/P or DEX/A;
control of current consumed by individual detectors – in case of failure of any of them – automatic disconnection of power supply (does not block operation of other detectors, independent hardware and software protection);
control of the state of wired connection with the detectors (ensures full detection of failure conditions, specifying the type and location of the fault);
assigning two alarm levels A1 and A2 to the threshold detector;
possibility of assigning individual detectors to one of two zones, so that different external devices can be controlled depending on which group of detectors the alarm condition occurred (in effectb creating two detection systems);
MD-…Z… controls the operation of two shut-off valves and controls the state of the module's line connection with valves (one valve assigned to one zone);
three additional operating modes are possible: "SILENT WORK" – silences the internal piezoceramic siren permanently or temporarily (for 15 minutes), blocks the siren at output A2 (12VDC); "SERVICE MODE" - temporarily deactivates the module outputs; "AUTO RESET" - will automatically reset the input and output memory states on the module display after the alarm states disappear;
possibility to close the valves by manually triggering the output control signals (without the need to generate the detector alarm signals);
indication of alarm and emergency states by displaying appropriate messages on the LCD graphic display and switching on LED lights, with simultaneous acoustic signalling (built-in siren);
displaying messages on the LCD screen containing information on alarm and emergency states of the module's inputs/outputs;
non-volatile internal memory of the 1600 most recent events with assigned start and end times and the source of the event;
possibility of precise determination of alarm delay times;
possibility to activate outputs depending on the number of alarms at the inputs: at least 1 or 2
detectors in alarm condition;
four relay outputs (galvanically separated from the system) control fans, motors, contactors, information boards or connect to building/plant automation;
two sets of 12VDC alarm outputs – to control additional acoustic and optical sirens (2 outputs for each zone);
the "FAULT" contact output (galvanically separated from the system) informs about the module's failure status, fuse damage, damage to the connection line with the detector or power failure;
two alarm inputs (galvanically separated) for additional devices and modules (cascaded);
possibility of supplying 12VDC external devices, e.g. additional MDX modules or manual valve closing switches;
all removable, self-tightening connectors, with the possibility of connecting wires with single or multi-stranded conductors (wire, without crimping sleeves) ensure quick installation/start-up of the system and easy maintenance/replacement;
serial communication port RS-232 enables visualization of the device's status on the PC screen by means of additional software "MD16 View", available at https://www.gazex.pl/oprogramowanie/; or an alternative RS-485 port (in MD…/M version): enabling operation in MODBUS/RTU mode, i.e. compatibility with control systems of "smart buildings".
Block diagram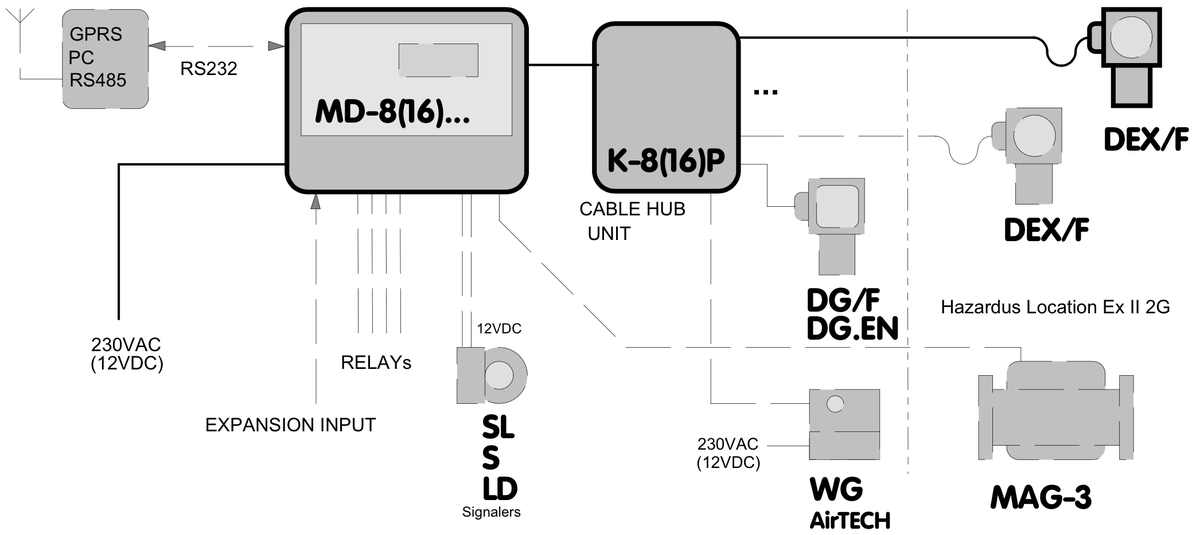 ---
Device model:
MD-16.B
Technical parameters
Maximum number of detectors

16

Alarm control outputs 12VDC

4

Contact control outputs

4

Emergency control output

Alarm inputs

2

Power supply backup

Supply voltage

230VAC

Dimensions

330 x 300 x 150 mm
Documentation
Series
Technical data
Device information sheet
Instruction manual
Declaration of conformity

W1

—
—
—
—
Archived series

U6

—
—
—
—

U5

Download file
—
—
—
Suggested products