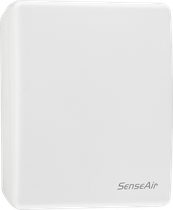 eSENSE
Device group:
Ventilation controllers
Device type:
Senseair
Description of device type
SenseAir is a modern, microprocessor-controlled detector of carbon dioxide (CO 2 ), temperature (T) and humidity (RH). They monitor the fundamental parameters of indoor air quality in buildings. Their primary use is control of ventilation and air conditioning in public/commercial/industrial buildings in accordance with client needs. They enable significant savings in ventilation operating costs without sacrificing air quality.
Areas of ​​application
public buildings,
mushroom farms,
greenhouses (amount of crop yield),
fruit and vegetable storage (long-term storage),
breweries, gas storage facilities and other facilities where CO 2 is a technological medium or by-product (OHS).
Features
highly selective measurement based on NDIR absorption,
no disturbance from other gases,
total resistance to periodic exceeding of the measuring range (up to 100% by volume),
long service intervals due to internal auto-calibration procedure;
all detectors are calibrated in GAZEX's own Calibration Laboratory operating in accordance with PN-EN ISO / IEC 17025 (PCA accreditation No. AP150).
---
Device model:
eSENSE
Technical parameters
Sensor
Substance/property
Standard alarm thresholds or measuring range
Infra-red
Carbon dioxide (CO2)

0 ÷ 2000

ppm


Output in 4-20mA standard

Output in 0-10V standard

Output in 2-10V standard

Supply voltage

24VDC

Dimensions

80 x 100 x 28 mm

Net price

PLN859.00

N
Documentation
| Series | Technical data | Device information sheet | Instruction manual | Declaration of conformity |
| --- | --- | --- | --- | --- |
| 805 | — | — | — | — |