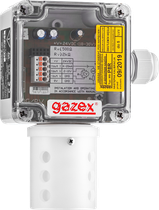 DG-PV1R2
Device group:
Concentration-measuring gas detectors
Device type:
DG/PV
Description of device type
DG/PV are designed to measure and monitor dangerous concentrations of toxic and explosive gases (and oxygen) in the air in enclosed industrial spaces. They have an interchangeable module with a measuring sensor.
They are designed to cooperate with control units (systems) of various manufacturers requiring detectors with active current output 4-20mA or voltage output 2-10V.
DG/PV detectors have a standard casing and cannot be used in areas classified as explosive gas, vapor or dust zones.
(Note: DG/PV detectors are not intended for use with MDP, MDA or MDD type modules).
Features
interchangeable gas sensor;
2 outputs: current in standard 4-20mA (active, i.e. emitting current) and voltage 2-10V;
built-in signaling of exceeding the measuring and temperature range, operating time counter, history of emergency states and signalling the end of calibration;
thermal compensation system (can be used under changing environmental conditions);
short detector response time;
built-in optical signalling (2 LED lights);
removable terminals with the possibility of embedding single and multi wire conductors (without crimping the sleeves);
splash-proof gas sensor cover IP44 (in recommended mounting position);
additional mechanical shield made of profiled tubes available - type AR-1d (installation in zones exposed to mechanical damage, e.g. warehouses, wholesalers, parking lots);
possibility of being equipped with an enclosure to be placed on a ventilation duct (option DG/w);
sensor modules for DG/PV and DG/P are interchangeable (different modules can be used for the same DG/PV body) – however, the installation conditions for individual gas must be taken into account;
all detectors are calibrated in our own GAZEX Calibration Laboratory operating in accordance with PN-EN ISO/IEC 17025 (PCA accreditation No AP150).
Block diagram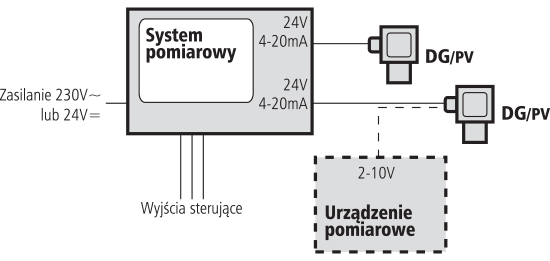 ---
Device model:
DG-PV1R2
Technical parameters
Gas sensor module
Sensor
Substance/property
Standard alarm thresholds or measuring range
MS-P1R2/N
Infra-red
Methane (CH4)

0 ÷ 100

%LEL


Output in 4-20mA standard

Output in 2-10V standard

Visual signalling, built-in

Supply voltage

24VDC

Dimensions

110 x 140 x 55 mm

EAN Code

5901769656925

Net price

PLN1,949.00

S
Documentation
Series
Technical data
Device information sheet
Instruction manual
Declaration of conformity

W2

—
—
—
—
Archived series

W1

—
—
—
—
Suggested products