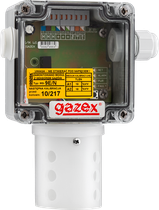 DG-P7E/M
Device group:
Concentration-measuring gas detectors
Device type:
DG-P/M
Description of device type
DG-P/M digital detectors are designed for continuous monitoring of gases indoors. The detector performs cyclic measurements of gas concentration. When the preset concentration levels are exceeded, the detector's optical alarm signaling is activated and information is transmitted to a digital control module (using a network in the industrial standard RS-485). Detectors are designed for cooperation in Digital Gas Detection System.
The detectors have an exchangeable module with a semiconductor, electrochemical or optical sensor (Infra-Red). The interchangeability of the sensory modules improves maintenance, simplifies calibration and reduces operating costs.
The DG-P/M detectors are of normal design and cannot be used in areas classified as explosive atmospheres of gases, vapours or dust.
Area of application
industrial plants, logistics centers, public facilities;
extensive premises at risk of toxic or explosive gas emissions.
Features
communication, control and transmission of information through the port in RS-485 standard, with MODBUS RTU protocol;
sensors in exchangeable modules;
possible selection of gas sensors for the application;
short detector response time;
built-in control microprocessor means reliability, stability of operation, and semi-automatic addressing in digital network (without opening the casing);
thermal compensation system;
alarm status history;
removable, screwless terminals with the possibility of connecting two FTP wires;
splashproof housing made of high impact ABS (IP44);
two cable terminals – easy to connect further detectors (in series);
selective optical LED signalling;
Optionally, it is possible to equip with additional shield made of steel pipes (AR-1d) or a casing for ventilation duct (DG/w version);
optional possibility of equipping with additional output terminals - upgrade to DG-P/MR version at any time;
detector settings configuration via dedicated "DETnet View" configuration software, available at https://www.gazex.pl/en/software/;
all detectors are calibrated in our own GAZEX Calibration Laboratory operating in accordance with PN-EN ISO/IEC 17025 (PCA accreditation No AP150).
---
Device model:
DG-P7E/M
Technical parameters
Gas sensor module
Sensor
Substance/property
Standard alarm thresholds or measuring range
MS-P7E/N
Electrochemical
Hydrogen (H2)

0 ÷ 1000

ppm


Output in RS-485 standard

Visual signalling, built-in

Supply voltage

24VDC

Dimensions

110 x 140 x 55 mm

EAN Code

5901769655676

Net price

PLN1,189.00

N
Documentation
Series
Technical data
Device information sheet
Instruction manual
Declaration of conformity

W6

—
—
—
—
Archived series

W5

—
—
—
—

W4

—
—
—
—

W3

—
—
—
—
Suggested products