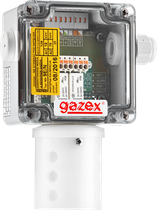 DG-1KL5/MR
New
Device group:
Threshold gas detectors
Device type:
DG/MR
Description of device type
Digital DG/MR detectors are designed for continuous monitoring of gases in enclosed spaces. When preset concentration values are exceeded, the detector's optical alarm signaling is activated, built-in relays change their state and information is transmitted to a digital control module using a RS-485 network. The detectors are designed for work in the Digital Gas Detection System.
The detectors have an exchangeable module with a semiconductor, electrochemical, or optical sensor (Infra-Red). The interchangeability of the gas sensor modules facilitates maintenance, simplifies calibration and reduces operating costs.
The DG/MR detectors cannot be used in areas classified as explosive atmospheres of gases, vapours or dust.
Area of application
industrial plants, logistics centres, public facilities;
extensive rooms at risk of toxic or explosive gas emissions with locally controlled sirens.
Features
communication, control and transmission of information through the port in RS-485 standard, with MODBUS RTU protocol;
two alarm thresholds or measurement mode (for electrochemical sensors and Infra-Red);
two built-in relays with NO/NC contact, on a removable board (for A1 and A2 status);
sensor in replaceable intelligent module (replaceable with DG/F and DG/P);
sensor can be selected for the application;
short detector response time;
built-in control microprocessor means reliable and stable operation;
thermal compensation system;
history of alarm states;
semi-automatic addressing in digital network (without opening the housing);
screwless terminals, removable, with possibility of connecting two FTP wires;
selective LED optical optimization;
two cable entries – easy connection of successive detectors (loop-through);
optionally, the possibility of being equipped with an additional casing made of steel pipes (AR-1d) or a casing for ventilation ducts (DG/w version);
configuration of detector settings via dedicated configuration software "DETnet View", available at https://www.gazex.pl/oprogramowanie/;
all detectors are calibrated in our own GAZEX Calibration Laboratory operating in accordance with PN-EN ISO/IEC 17025 (PCA accreditation no. AP150).
Block diagram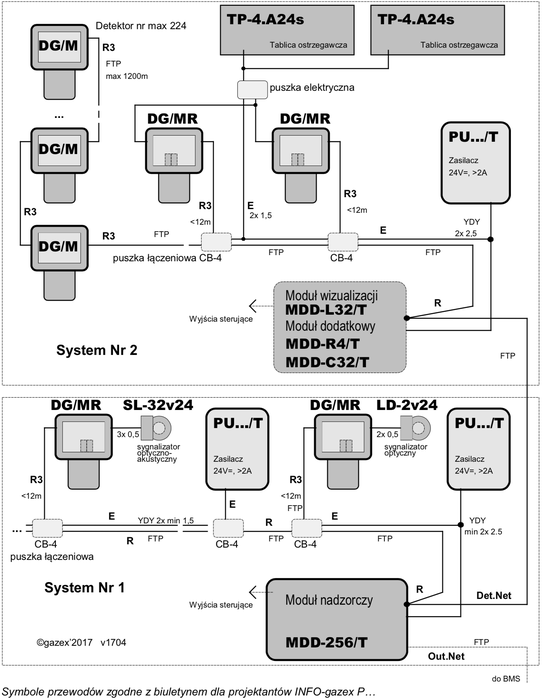 ---
Device model:
DG-1KL5/MR
Technical parameters
Gas sensor module
Sensor
Substance/property
Standard alarm thresholds or measuring range
MS-1KL5/N
Catalytic
Liquefied petroleum gas (LPG)

10/30

%LEL


Contact control outputs

2

Output in RS-485 standard

Visual signalling, built-in

Supply voltage

24VDC

Dimensions

—

Net price

PLN1,129.00

N
Documentation
Series
Technical data
Device information sheet
Instruction manual
Declaration of conformity

W5

—
—
—
—
Archived series

W4

—
—
—
—

W3

—
—
—
—
Suggested products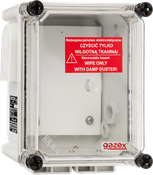 Splash-proof enclosures AP-1
Splash-proof enclosures to protect detectors from adverse weather conditions and mechanical damage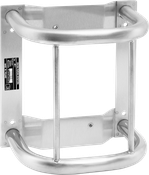 Tubular shields AR-1
Profiled tube guards to protect the detector from direct mechanical damage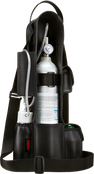 Gas test sets GTS
Test sets for verifying the correct operation of detectors by injecting a gaseous test mixture into the measuring chamber of the detector