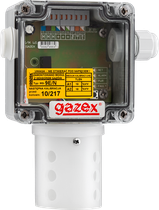 DG-12/M
Device group:
Threshold gas detectors
Device type:
DG/M
Description of device type
Digital detector type DG/M is designed for continuous monitoring of the concentration of specified gas on the premises monitored by Digital Gas Detection System. When the concentration exceeds a preset threshold, the detector produces a signal in the system via RS-485 network and switches on built-in LEDs.
Detector can be equipped with a semiconductor, electrochemical or Infra-Red sensor.
The detector has a removable module with the intelligent sensor, which facilitates maintenance and lowers operating costs. Detector DG/M cannot be used in hazardous locations.
Scope of application
industrial areas, factories, logistics centers, public buildings
dispersed gas detection systems
Features
communication, control and transfer of information through the port RS-485 with MODBUS RTU protocol;
short response time;
gas sensor in intelligent, EXCHANGEABLE module;
built-in microprocessor control provides reliability, stability, thermal compensation system, the history of alarm, semi-automatic address control;
3 or 2 alarm thresholds mode or gas concentration measurement mode;
optical signaling (4x LEDs); fast removable connection pins for FTP type cables;
splash-proof case (IP44)
2 cable glands enabling easy connection of multiple detectors in series;
optional: additional steel pipes cover (AR-1d) or the duct-mouting casing (version DG…/Mw);
all detectors are calibrated in our own GAZEX Calibration Laboratory operating in accordance with PN-EN ISO/IEC 17025 (PCA accreditation No AP150).
---
Device model:
DG-12/M
Technical parameters
Gas sensor module
Sensor
Substance/property
Standard alarm thresholds or measuring range
MS-12/N
Semiconductor
Methane (CH4)

10/30

%LEL


Output in RS-485 standard

Visual signalling, built-in

Supply voltage

24VDC

Dimensions

110 x 140 x 55 mm

EAN Code

5901769655423

Net price

PLN789.00

S
Documentation
Series
Technical data
Device information sheet
Instruction manual
Declaration of conformity

W6

—
—
—
—
Archived series

W5

—
—
—
—

W4

—
—
—
—

W3

—
—
—
—
Suggested products