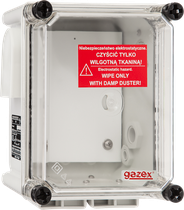 AP-1
Device group:
Housings and covers
Device type:
AP-1
Description of device type
AP-1 housings are additional external enclosures for gas detectors from DEX and DG families. They protect against rain, snow, splashing water from any side and mechanical damage to the detector.
The housings together with the DEX detector family can be used in areas where there is an explosion hazard of flammable gases or vapours.
---
Device model:
AP-1
Technical parameters
Dimensions

180 x 198 x 130 mm

EAN Code

5901769651463

Net price

PLN359.00

C
Documentation
| Series | Technical data | Device information sheet | Instruction manual | Declaration of conformity |
| --- | --- | --- | --- | --- |
| od 2015 | — | — | — | — |