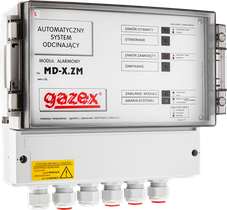 Additional control units MD-X.ZM
ZM butterfly valve control units in the Automatic Cut-Off Systems
MD-X.ZM units are designed for manual and automatic control of the ZM butterfly valve with 230VAC electric drive in the Automatic Cut-Off System.
MD-X.ZM is compatible with:
- butterfly valve type ZM with single-phase 230VAC drive (drive E50, E60, E100 or E65, E110) or three-phase 400VAC drive (via additional contactors),
- ball valve with EL-O-Matic rotary mechanism (single-phase drive EL100-800)
- or a valve with other single-phase electric drive having the same control and connection method (with limit switches).
Area of application
industrial gas-fired boiler plants,
installation of large gas consumers.
Features
230VAC voltage outputs to control valve closing and opening (or 3-phase motor contactors);
voltage control inputs 12VDC: valve closing and opening;
manual valve closing and opening with buttons on the front panel;
optical indication of valve status (opening, closing, opening, closing);
12VDC alarm outputs for opening or closing state – to connect sirens e.g. piezoceramic siren or warning lamp;
relay outputs (galvanically separated from the module) for opening and closing state – can control fans, contactors, etc;
relay output for failure state (galvanically separated from the module) – no power supply or valve opening/closing, power failure.
Offered models
Model
Maximum number of detectors
Power supply backup
Supply voltage
Net price

C.g.

MD-X.ZM
—
230VAC

PLN569.00

S
Model
Maximum number of detectors
Alarm control outputs 12VDC
Contact control outputs
Emergency control output
Output controlling the shut-off valve
Alarm inputs
Analogue 4-20mA output
Analogue 2-10V output
Digital RS-485 output
Mounting on a TS35 rail
Power supply backup
Supply voltage
Dimensions
Net price

C.g.

MD-X.ZM
—
2
2
2
230VAC
240 x 215 x 120 mm

PLN569.00

S