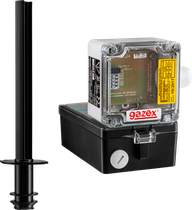 Auxiliary accessories DG/w
Adaptation of DG/F, DG/M, DG/P or DG/PV detectors for installation into a ventilation duct
DG/w is an adapted version of DG/F, DG/M (threshold) or DG/P, DG/PV, DG-P/M (measuring) detectors for installation on a duct. It has an additional measuring probe which, when properly installed though the wall of the ventilation duct, sucks in air allowing the concentration of hazardous substances in the duct to be measured.
The signalling and electrical and measuring parameters (except for the response time) are identical to those of the counterparts in standard enclosures.
DG/w cannot be used in areas classified as gas, vapour or dust explosion hazard zones.
Offered models
Suggested products