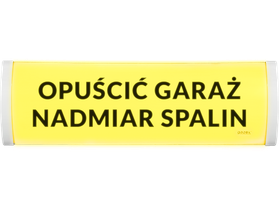 TP-42/H2
Product model withdrawn from sale
Device group:
Warning boards
Device type:
TP-42
Description of device type
Illuminated warning board type TP-42 is designed to display warnings in case of an alarm signaled by outputs of WG type detectors (underground garages) or MD type control units (toxic gas detection systems) manufactured by GAZEX.
Warning boards come with default warnings or signs customized to Client's requirements. Warnings are illuminated in active mode only.
TP-42 cannot be used in premises identified as zones with potentially explosive atmosphere.
Features
signs invisible when not illuminated, displayed when power is on
light source: fluorescent lamps 230VAC, 18W x 2
high resistance and reliability
low energy consumption
simple installation on walls (may be suspended from ceilings)
Standard signs (in polish)
H1 - "NIE WCHODZIĆ NADMIAR SPALIN"
H2 - "OPUŚCIĆ GARAŻ NADMIAR SPALIN"
H3 - "NIE WJEŻDŻAĆ NADMIAR SPALIN"
H4 - "WYCIEK AUTOGAZU ZACHOWAĆ OSTROŻNOŚĆ"
H5 - "UWAGA ! NADMIAR SPALIN"
Other signs
H0 - any inscription, according to specification (2 rows of inscriptions, 20 characters max. per row)
---
Device model:
TP-42/H2
Technical parameters
Visual signalling

black letters on an illuminated yellow background

Information lettering

OPUŚCIĆ GARAŻ NADMIAR SPALIN

Supply voltage

230VAC

Dimensions

685 x 210 x 75 mm

EAN Code

5901769650114
Documentation
Series
Technical data
Device information sheet
Instruction manual
Declaration of conformity

2021

—
—
—
—
Archived series

2016

—
—
—
—
Suggested products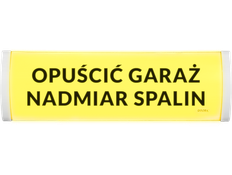 TP-22
Illuminated warning boards to visually present the alarm status appearing at the control outputs